Overseas shoppers join New York shopping frenzy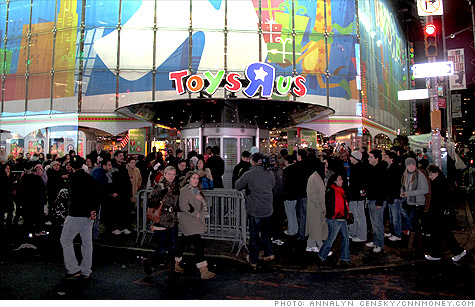 NEW YORK (CNNMoney.com) -- International visitors to New York took advantage of both an American phenomenon and the weaker U.S. dollar to bag some holiday season bargains.
The 10 p.m. Thursday opening of Toys R Us' flagship store in Times Square drew shoppers from as far away as South America and Europe. The nation's largest toys-only retailer got a head start on the holiday shopping craze known as Black Friday, when merchants offer exceptional bargains in an effort to boost their sales in the biggest shopping period of the year.
Ana Carolina Bonhilha and Ana Paula Cruz came all way from Brazil to experience their first Black Friday in the States. After shopping in the store earlier in the day, they were able to secure the much-coveted first spot in line about 2-1/2 hours before the open.
Armed with two suitcases and about $1,100, they were looking for deals on Nintendo Wii games, Guitar Hero and a Baby Alive doll -- and whatever else could be stuffed into their luggage.
"We think all will be on sale," Bonhilha said. "A lot of these things are so expensive in Brazil. We're traveling and actually saving money."
Danielle and John Van der Moeuer from the Netherlands also braved the lines to fill their suitcases with "Toy Story 3" figurines, gearing up for both St. Nicholas Day and Christmas.
"Everything is a deal here because the dollar is so much lower than the euro," John said.
Early Friday, the euro was trading at $1.3252, while the U.K. pound traded at $1.57. Against the yen, the dollar traded at ¥83.77.
In the past, Toys R Us has opened its stores at midnight or 5 a.m. on Black Friday. This year, it tried something new with a 10 p.m. start on Thanksgiving, a national holiday, hoping to draw even more customers.
Based on the queues, the strategy appeared to work. An hour ahead of the opening, hundreds of eager shoppers lined up outside the Times Square store, winding around the corner and to the next block.
"We're off to a great start," said Toys R Us CEO Gerald Storch. "I've been getting reports from all over the country and the lines have anywhere from between 500 to 1,000 people at every Toys R Us store nationwide."
After two years of dismal holiday sales, retailers are looking for a better -- but still not great -- 2010 holiday season.
Storch is a bit more optimistic though.
"I believe this will be the biggest Black Friday ever. Customers have a lot of pent-up demand and they're looking for values. Black Friday is about bargains more than anything else," he said.