Obama debt panel delays final vote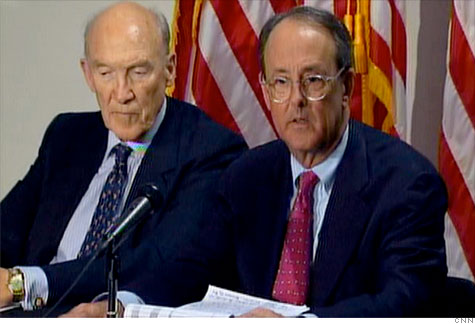 NEW YORK (CNNMoney.com) -- The leaders of President Obama's debt commission said Tuesday that they would delay a vote on final recommendations until Friday.
The vote was originally scheduled for Wednesday.
The commission's co-chairmen, Erskine Bowles and Alan Simpson, said they would still release the panel's report on Wednesday so the members can review it. It will be an amended version of a plan Bowles and Simpson put out three weeks ago.
In the Bowles-Simpson plan, the co-chairmen attacked every area of the federal budget and offered ways to reform the tax code. The plan would reduce nearly $4 trillion from deficits over the next decade.
Among their proposals, they found ways to trim $200 billion from domestic and defense spending in 2015. They proffered changes to make Social Security solvent for 75 years and recommended that taxes and spending be capped at 21% of the size of the economy.
"Our goal has been really simple: to start an adult conversation in Washington about the dangers of this debt," Bowles said, noting that no change will be easy.
Regardless of how many of the commission's 18 members sign on to the final report, Bowles said the panel met its goal.
"We won and we won big," he said at a press conference Tuesday. "The era of deficit denial in Washington is over."
To make formal recommendations to Congress, 14 commission members will need to vote for the report.
Bowles, who was President Clinton's White House chief of staff, and Simpson, the former Republican senator from Wyoming, have spent weeks negotiating with commission members about what they would need to see in a final plan to win them over.
Nevertheless, Bowles stressed that the amendments made to the original plan on the basis of members' suggestions have made it a "better" plan, not a watered down one. And, he added, they don't anticipate any changes will be made to the report once it is released publicly on Wednesday.
Even if the final plan fails to win a supermajority of votes, its recommendations may influence lawmakers' thinking when they debate what measures are needed to rein in federal debt.
The commission members include 12 current lawmakers -- evenly divided between Democrats and Republicans -- as well as 6 presidential appointees.
The idea behind the commission, created by the president after lawmakers failed to create one by statute, was in part to give lawmakers in both parties some political cover for making what will arguably be the most controversial and least popular decisions of their public lives.