Wacky Wiki won't wreck bank stocks
NEW YORK (CNNMoney.com) -- There are plenty of reasons to not like bank stocks.
It's not clear what the robo-signing scandal will mean for profits. Concerns about a commercial real estate nightmare haven't gone away. And the sector is notably absent from the merger mania that's swept over the rest of the market.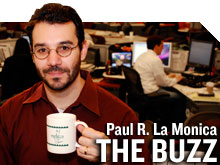 But speculation about a big WikiLeaks reveal sometime in 2011 is probably the last reason to sell bank stocks.
Sure, innuendo and rumor often move stocks. And Julian Assange, founder of the controversial WikiLeaks site, rattled investors' nerves Tuesday by saying in an interview with Forbes that he's got enough details to "take down a bank or two."
Traders immediately jumped to the conclusion that one of the banks is probably Bank of America. Shares of BofA (BAC, Fortune 500) fell more than 3% Tuesday and finished just three pennies above their 52-week low.
A Bank of America spokesman told CNN late Tuesday that there is no evidence WikiLeaks is targeting the bank. The stock bounced back Wednesday afternoon. Shares lagged the broader market and rest of the banking sector for much of the day but were up more than 3% just before the market's close.
The Charlotte, N.C. banking giant has been at the center of the foreclosure mess due to its purchase of Countrywide.
Its acquisition of Merrill Lynch just as Lehman Brothers was about to file for bankruptcy also raised eyebrows. All told, BofA wound up receiving $45 billion in bailout funds (including $10 billion for Merrill.) That money has since been paid back.
Still, it's hard to imagine more bad news about BofA and other big beleaguered banks that isn't already public knowledge. After all, a massive amount of documents were released last year by Congress when former CEO Ken Lewis was dragged in front of a House committee to testify about the Merrill deal.
Plus, it's clear to the markets that banks face structural problems and economic headwinds that are not going to go away anytime soon.
It's also unlikely that the banking business, which already will be subject to somewhat onerous new rules following the passage of the Dodd-Frank financial reform bill, will become the target of even stricter regulation.
Todd Sullivan, general partner with investment firm Rand Strategic Partners and author of the ValuePlays.net blog, made the following joke on Twitter earlier Wednesday.
"honestly, what could wikileaks say about $bac that we do not already think?? other than they killed kennedy, we already think they r scum," Sullivan wrote.
One fund manager who owns BofA and several other large banks said that the only way for WikiLeaks to truly rock the markets would be if it actually had evidence that proved something criminal.
"The fact of the matter is we've already gone through the banking crisis. What WikiLeaks would have to have would be literally something that shows a concerted conspiracy to intentionally defraud," said Dan Genter, president and CEO and of RNC Genter Capital Management in Los Angeles.
Genter, whose firm also owns stakes in JPMorgan Chase (JPM, Fortune 500), Wells Fargo (WFC, Fortune 500) and Bank of New York Mellon (BK, Fortune 500), said that absent any smoking guns of an Enron-like variety, the WikILeaks kerfuffle may turn out to be much ado about nothing.
"Sure, there is a risk you have something that shows some damaging emails. But I'd be surprised if WikiLeaks exposes fraud at a sort of organized crime level," Genter said.

Still, David Katz, president and chief investment officer with Matrix Asset Advisors in New York, said that the speculation about what WikiLeaks may or may not have creates "headline risk" for banks -- and BofA in particular.
"Ultimately, I don't think there will be a lot of financial impact in the long-term from WikiLeaks. However, until the data is out and scrubbed and until more time passes, it's an additional overhang for banks," Katz said.
Katz, who owns BofA in his Matrix Advisors Value Fund, said he still likes BofA and the rest of the banking sector. But he admits he's wary of BofA because of all the bad press it's getting and that he's waiting to see how things play out before deciding whether to buy more.
He said other banks he owns, such as JPMorgan Chase, Wells Fargo, Bank of New York Mellon, Morgan Stanley and BB&T, are better bets.
So for now, it seems that worries about perp walks, major scandals and massive bank failures may be a bit overblown.
But as long as BofA is getting attention for all the wrong reasons, its shares may continue to be left behind even if other bank stocks rally.
- The opinions expressed in this commentary are solely those of Paul R. La Monica. Other than Time Warner, the parent of CNNMoney.com, and Abbott Laboratories, La Monica does not own positions in any individual stocks.