Taking a blog kickback? Slap a Cmp.ly on it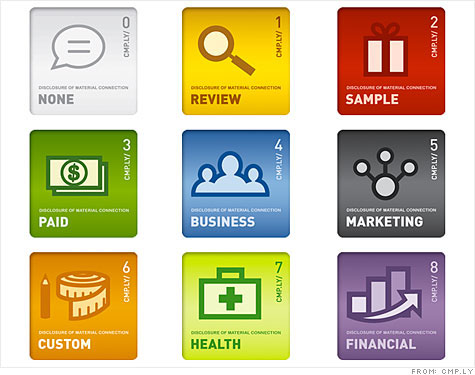 NEW YORK (CNNMoney.com) -- It's been exactly one year since the Federal Trade Commission implemented a new set of rules intended to crack down on bloggers who don't disclose that they've received freebies or money from brands.
How many investigations has this regulatory crusade launched so far? Two.
That very mild tally stands in stark contrast to the firestorm that greeted the new rules, which took effect Dec. 1 last year. Critics accused the FTC of embarking on a witch hunt and worried that "mommy bloggers" would end up in jail for failing to tell their readers they'd been sent a free bar of soap.
One reason the FTC has moved so cautiously is that the agency itself isn't quite sure yet how strictly its rules should be applied. It says it's more concerned about policing big companies than individual bloggers -- its first investigation targeted retailer Ann Taylor over gifts the company bestowed on bloggers who covered a fashion preview event. The FTC ended that probe without taking any enforcement action.
But blog posts are a comparatively straightforward target. Should disclosure rules apply 140-character tweets? Foursquare check-ins?

"There's a challenge there, and this stuff is always changing," FTC Northeast director Leonard Gordon said in a recent interview.
Where there's a challenge, there's probably a tech startup. Enter Cmp.ly, which aims to make compliance simple for the Twitter and Foursquare users of the world.
The New York-based company is like a bit.ly for disclosures: People reading a post can click a short code that brings them to a site detailing the kickback received, whether it's a free item or a cash payment.
Cmp.ly founder Tom Chernaik, a radio ad salesman turned digital strategist who also has a law degree, says he developed the idea last year while working to connect bloggers and brands for promotions.
"I saw people tweeting disclosures that took up the maximum 140 characters. Obviously, that's not going to work in today's media," he says.
Instead, Chernaik set out to create "something short, simple and conspicuous" for writers to include in their posts.
How it works: Clicking a Cmp.ly link -- for example, the code for review copies that lives at at cmp.ly/1 -- brings readers to a page with colorful icon and this explanation: "I received a review copy (book, CD, software, etc.), or an item of nominal value that I can keep for consideration in preparing to write this content."
"If you're a company like Kraft, you have hundreds of brands and tons of promotions," Chernaik says. "If the FTC comes to you asking, you need to be able to show you're keeping track of your writers."
So Cmp.ly set up a program that lets brands create their own trackable codes for $500 a month. For an extra $500 each month, Cmp.ly offers data analysis and automated reporting when keywords like brand names are mentioned.
A pilot test earlier this year drew in big brands like Starbucks (SBUX, Fortune 500), Kraft (KFT, Fortune 500), Cover Girl and Dove. Chernaik says Cmp.ly's disclosures have been used more than 400,000 times.
Moving beyond the hashtag: There's no commercial competitor to Cmp.ly, but some Twitter users -- including Lindsay Lohan -- have thrown together ad-hoc solutions like adding "Ad" at the end of a promotional message.
But the FTC has made it clear that the onus is on companies to make sure writers' endorsements follow the law -- so it's not in the brands' interest to let bloggers simply slug a post #paid.
C.C. Chapman, founder of the blog Digital Dads, started using Cmp.ly earlier this year. He hopes the system becomes the standard.
"Everyone's been approaching compliance differently," Chapman says. "No one wants to be the first person sued, but we can't have each blogger using their own system. Cmp.ly is easy and simple, but I'll bet it won't be the only program to pop up."
Marketing agencies have also taken notice of Cmp.ly, but steps toward widespread adoption have been slow.
"The biggest competitors here are ignorance and indifference," says Malcolm Faulds, a marketer with "word-of-mouth marketing" company BzzAgent.
"These companies have a million things to think about, so they're not putting the time in for laws they haven't heard much about," he added. "But that's why something simple, like Cmp.ly, is great: simple and fast."
Faulds says that about 8% of BzzAgent's clients are using Cmp.ly, and he expects that number to grow this year. But thinks Cmp.ly could face sharp competition if a larger company like Google or Yelp decided to build its own compliance system.
Looking ahead: Chernaik's most immediate challenge isn't rivals. It's the FTC. The agency's light investigation load blunts the need for solutions like his -- and until there's visible consequences for violations, they're little incentive to invest in disclosure.
But he still sees progress being made.
"In 2009, I'd talk about disclosures and people would tilt their heads like, 'What?'" Chernaik says. "This year people know what I'm talking about, and they understand they need to get their compliance in order."