WTF?! Where did my Mint.com data go?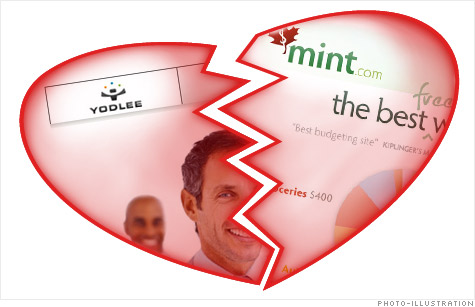 NEW YORK (CNNMoney) -- The love affair is over: Mint.com and Yodlee are donesville. Split. Over.
The two giants of online personal financial management are going their separate ways. And yes, it's because there's someone else.
Mint.com had been dependent on Yodlee for years. Without Yodlee's technology, Mint couldn't have provided its 3 million customers with a way to see all of their personal banking data in one place.
But Mint fell for Intuit last year, selling itself off for about $170 million. And with that, the romance was over.
Since January, all new Mint users have been supported by Intuit. Like Yodlee, Intuit scrapes a Mint customer's financial data from across multiple accounts -- checking, savings, 401(k), credit cards, student loans, mortgages, etc. -- and serves it up so everything can be viewed in one place.
The site has been gradually transitioning old users to Intuit's platform over the past few months, with the goal of having the remaining couple million accounts off Yodlee very soon.
But in the transition, many customers found that their data wasn't showing up on Mint.com. Bank accounts stopped updating. Individual debit transactions never appeared in Mint's records. It was as if Intuit's scraping technology just...forgot.
"It's a bit of a conversion nightmare," said Emmett Higdon, a senior analyst at Forrester Research who specializes in online and mobile financial services. "All these sites may look, feel and smell the same, but quality of data is definitely one of the things that separates them."
Customers certainly notice, because if their accounts aren't showing up, they no longer have a complete view of their finances, making it impossible to budget or track purchases.
In September TD Bank customers stormed the Mint.com help forum, saying their accounts had suddenly stopped showing up when they logged in to Mint.
"This is my only checking account and the one my budget is entirely built upon...please address this issue!" one user wrote.
Responding to the complaints, Mint acknowledged the difficulty of juggling two data providers.
"Sorry for the confusion. We currently have two data providers aggregating account data for users," the post said.
"The dirty, behind the scenes thing is just how complex it is," said Mint.com CEO Aaron Patzer, who described the first few months moving users to Intuit as particularly "rough." But he added, "Intuit's platform is getting better at a much faster pace now."
But most consumers don't care about the nuts and bolts -- they just want the same service they've always been able to get.
"With data aggregation, it's like watching a meal be prepared -- you don't want to know what's going on in the kitchen," said Higdon. "These problems certainly expose to consumers some of the behind-the-curtain issues with providing such a service."
The primary problem is with the scripts that Yodlee and Intuit must write in order to collect data from the banks. If a bank redesigns its website or adds a new feature, the old scripts break, leaving customers mad because their Mint.com isn't working.
"Every bank site that needs to be aggregated has the potential to blow up any script with any changes the bank makes," Higdon said. "Yodlee has been in this data aggregation game longer than Intuit and may have deeper knowledge of how to build those scripts, so there are going to be growing pains on Intuit's part to match the breadth of Yodlee's data capturing."
But in the long run, Patzer said he believes Mint's service will be better and they will be able to serve more people. In fact, through Intuit, Mint has been able to double the number of banks it supports.
Even further into the future, Patzer dreams of having bank information downloaded into Mint in real time, sort of an RSS feed of personal data. "That's the thing I'd love to pioneer over the coming years," he said.