10-year yield edges over 3%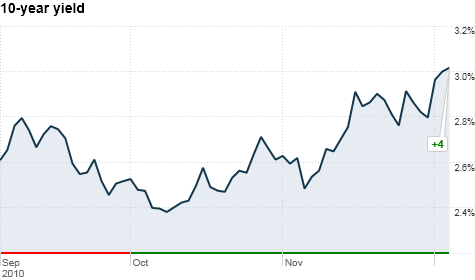 NEW YORK (CNNMoney) -- The yield on the benchmark 10-year Treasury note staged a mild retreat from its four-month high Friday, but recovered late in the day, closing just over 3%.
U.S. employers added 39,000 jobs to their payrolls in November, the Labor Department reported. That marks a major slowdown from October, when the economy added an upwardly revised 172,000 jobs.
November's numbers also fell short of the 150,000 gain that economists surveyed by CNNMoney were expecting.
And the all important unemployment rate rose to 9.8%.
That's a whole lot of bad news for the economy, and following the report short-term Treasury prices increased while the price on 30-year bonds dropped.
While the yield on 10-year bonds did register a decline, the drop wasn't severe, a trend mirrored in the major stock indices, which dropped after the report, but quickly recovered.
The report failed to move the market in a big way because of a recent flurry of positive manufacturing indicators, said William Larkin, portfolio manager at Cabot Money Management.
"I think the market discounted this jobs report," he said.
Larkin likened the jobs report to looking through the rear-view mirror, and said he believes the economy is at a turning point, and that the yield on 10-year bonds continue to rise heading into next year.
What Treasury prices are doing: Prices on U.S. Treasuries were mixed Friday, with the 30-year and 10-year bonds dropping, while prices rose on shorter-term bonds.
The yield on the benchmark 10-year Treasury note rose to 3.01% from 2.99% on Thursday. Yields for the 30-year bond increased to 4.32%. The 5-year Treasury note dipped to 1.62%, and the 2-year note fell to 0.48%.