Waste Management's new direction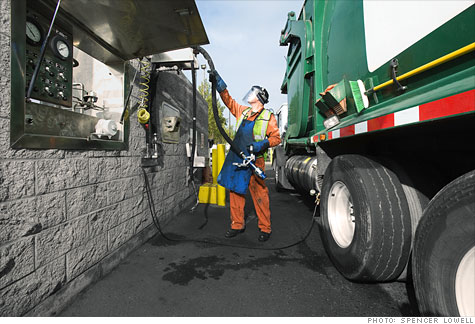 FORTUNE -- Reusable grocery bags. Online media. Concentrated laundry detergent in small packages. All are good for the environment because they reduce waste, but they're a threat to the business of collecting and disposing of garbage.
No wonder executives at Waste Management (WM, Fortune 500), America's biggest trash hauler, got nervous when Subaru's TV commercials boasted that its Indiana auto plant sent nothing to the landfill. Or when Wal-Mart (WMT, Fortune 500) embraced the idea of zero waste. In a world where people throw less stuff away, the future of a traditional garbage company looks bleak.
That's why David Steiner, Waste Management's chief executive, is turning the company in a new direction. Instead of simply trucking trash to the dump, the Houston-based firm will look for ways to extract value -- energy or materials -- from the waste stream. When companies like Alcoa (AA, Fortune 500) or Caterpillar (CAT, Fortune 500) want to reduce their waste, the company has a team of consultants that will help -- even if that means cannibalizing the core business of burying anything and everything in landfills.
"Picking up and disposing of people's waste is not going to be the way this company survives long term," Steiner says. "Our opportunities all arise from the sustainability movement."
Waste Management's tag line -- "Think green" -- signals the new direction. The company is shifting capital investment away from landfills and toward recycling plants, known as MRFs (materials recovery facilities), that enable "single-stream recycling." It allows consumers to place all recyclables into one bin; paper, cardboard, glass, plastic, and metals are then separated using forced air, optical scanning, and heavy-duty magnets. Waste Management has invested in or acquired about 25 small companies that capture materials or energy from stuff that's thrown away. Already the company's waste-to-energy plants generate enough electricity to power 1.1 million homes -- more than the entire solar energy industry can in the U.S. Finally, Waste Management has turned zero waste -- the idea that everything we no longer want or need gets made into something else -- into a business by deploying consultants who help companies use less and throw less away.
The new initiatives are mostly about the future; for the moment, Waste Management's big green trucks typically head for the dump. Ranked No. 196 on the Fortune 500, Waste Management generated $11.8 billion in revenue and $994 million in profit in 2009, roughly three-quarters of it by collecting and disposing of garbage. (Recycling accounts for just 5% of revenue.) The company's most valuable assets are its 273 landfills, which have enough capacity to absorb 4.8 billion tons of trash. Since it will handle about 110 million tons of waste this year, there's no danger in running out of places to bury it anytime soon. Waste Management's shareholders love landfills; they're why the company expects to generate between $1.2 billion and $1.3 billion in free cash flow this year. "Landfill pricing drives our business," Steiner told investment analysts during the company's latest earnings call.
Steiner, 50, brings an outsider's perspective to the garbage trade. A lawyer, he joined Waste Management in 2001 as deputy general counsel, turning down a competing offer from Enron. ("I am the living, walking embodiment of 'better to be lucky than good,'" he says.) Three and a half years later -- after brief stints as general counsel and CFO -- he was put in charge. "I'll never forget going to a bookstore and seeing if I could find a book called CEO-ing for Dummies," he jokes. Instead, he took an executive education course at Harvard, where he says the most important thing he learned was to listen to customers. "This company and this industry weren't very good at that," he says. Businesses and governments told him they wanted the company to do more than collection and disposal.
The strategy is not without risk. While recycling makes sense when commodity prices are high, it's a losing proposition when raw materials are cheap, as they were during the recession. Some shareholders want Waste Management to use its free cash to pay dividends or buy back stock instead of investing in unproven new ventures -- they say any startup that figures out how to make money generating energy from waste will eventually have to do business with Waste Management to get access to its waste stream.
When Credit Suisse analyst Hamzah Mazari downgraded Waste Management to neutral last year, he wrote that the company "does not want to be a trash company but instead a one-stop green environmental services shop, and that transformation requires both a lot of patience and capital." He told Fortune, "When you invest in a waste company, you're basically investing in a free cash flow annuity stream. We worry they will get distracted. Steiner's got too much on his plate."
Still, Waste Management has fared reasonably well since adopting its new approach. Revenues and profits fell last year because of the recession, but for the past three years shares of Waste Management have outperformed those of its chief rival, Republic Services (RSG, Fortune 500), which remains focused on collection and disposal: Waste is up by 15%, Republic is down by 2%. As it happens, Warren Buffett and Bill Gates -- through Berkshire Hathaway (BRK.A), Cascade Investment, an asset management firmed own by Gates, and the Bill & Melinda Gates Foundation -- are major holders in Republic. The Gates Foundation owns Waste Management shares too. It's not hard to discern why Buffett and Gates like the trash business: It has significant barriers to entry because new landfills are hard to site and expensive. And despite the buzz about zero waste, Americans generate lots of trash -- an average of 4.5 pounds a person per day, the EPA says.
Steiner is taking a long-term view. A cornerstone of the new strategy is his belief that energy and commodity prices will rise, driven by economic growth in China and India. Higher energy prices will pay off for Waste Management if the company and its partners devise new ways to generate electricity or transportation fuels from trash. Higher commodity prices will drive recycling because the value of materials extracted from the waste stream -- paper, plastic, aluminum, steel, and precious metals like gold and mercury -- will go up. Waste Management has estimated that about $8 billion to $10 billion worth of value lies in the waste it handles each year.
The challenge for the company is to capture that value in ways that make economic sense. Consider the organic materials -- food scraps, yard trimmings, and wood -- that account for about 30% to 35% of the waste stream and represent its single largest untapped resource. While most yard trimmings are recycled, more than 95% of food waste goes to landfills. That's because the cost of collecting and processing food waste (which is heavier, wetter, and harder to transport than grass clippings) tends to be higher than whatever revenues can be realized turning it into compost or fertilizer, its most common uses. "Organics, for us, is difficult, but it's also a huge opportunity," Steiner says.
To better capture the value of the rotting tomatoes, banana peels, and chicken bones that now end up in landfills, Waste Management has invested in a number of companies that are trying to turn organics into cash. In September it bought a majority interest in Garick, a 30-year-old Ohio-based company that makes compost and mulch at facilities in six states. Turning a ton of food waste into compost generates roughly $40 to $50 in revenue -- nothing to get excited about, says Carl Rush, who is Waste Management's senior vice president of organic growth.
This year Waste Management took a stake in Harvest Power, a Massachusetts-based startup that turns organic waste into compost and biogas, which can then be burned to generate electricity. Venture capitalist firm Kleiner Perkins Caufield & Byers is an investor in Harvest Power, which is building its first commercial-scale plant in British Columbia. Its technology could generate $60 to $80 a ton in revenue, Rush estimates.
Two other companies backed by Waste Management -- Terrabon and Enerkem -- are generating transportation fuels from waste, albeit on a very small scale. Houston-based Terrabon is making green gasoline from paper waste and chicken manure at a pilot plant in College Station, Texas, while Enerkem, a Canadian firm, is developing a commercial-scale facility in Edmonton, Alberta, to turn mixed solid waste into ethanol. (Waste Management won't disclose the size of its venture investments but says they are typically $5 million to $10 million.) If Terrabon or Enerkem are able to scale up and bring costs down, Rush says, they could generate about $200 to $250 worth of fuel from a ton of waste.
That would be a game changer. "If we can figure out a way to process and convert organic material better than anybody else, we're going to own that material," says Steiner. Eventually Waste Management could pay its customers for organic waste -- giving it an unbeatable advantage over competitors charging them to put it in landfills.
Steiner and his colleagues are seeking breakthroughs with other materials too. The company's LampTracker business is the largest recycler of compact fluorescent bulbs in the U.S.; it collects bulbs from businesses and consumers, crushes them, and ships the mercury powder inside to a reprocessing facility in Minnesota. To boost collection of plastic bottles, a business called Greenopolis partners with PepsiCo (PEP, Fortune 500), Nestlé Waters, and Whole Foods (WFMI, Fortune 500) to collect bottles in reverse vending machines. The kiosks -- Pepsi's are branded Dream Machines -- dispense rewards to people recycling on the go.
Unlike the traditional collection and disposal business, all these ventures depend on proprietary technology or the kind of scale that gives Waste Management an edge over its competitors. "This is not David Steiner on some quest to save the planet," the CEO says. "I don't get paid to do that. I get paid to generate shareholder value." Now you know what Waste Management means by "Think green."