Bernanke on 60 Minutes: Doesn't rule out QE3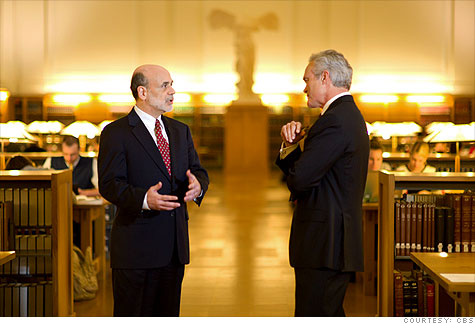 NEW YORK (CNNMoney.com) -- Federal Reserve Chairman Ben Bernanke this Sunday will make his second appearance on 60 Minutes, defending the central bank's controversial $600 billion bond buying program.
And he doesn't rule out the possibility that more could be on the way.
"He explains why the Fed announced its intention to buy $600 billion in Treasury securities, defending against charges the move will lead to inflation and not ruling out the purchase of more," CBS said Friday.
The Fed's latest move would mark the central bank's second round of quantitative easing since the financial crisis in the fall of 2008. Nicknamed QE2, it is meant to stimulate the economy by keeping interest rates low and encouraging consumers to spend more and businesses to create jobs.
The plan has drawn a major backlash from both conservatives and global leaders. Critics argue the policy of low interest rates will artificially devalue the dollar, and feed long-term inflation and asset bubbles.
Bernanke last appeared on 60 Minutes in March 2009 to defend the government's actions during the financial crisis, including its decision to let Wall Street firm Lehman Brothers fail while at the same time stepping in to save insurance giant American International Group.
The broadcast is expected to appear on CBS at 7 p.m. ET this Sunday.
Investors have been mulling over the prospects for QE2 since August, when Bernanke said at the Fed's annual retreat in Jackson Hole, Wyo., that the central bank would consider all manner of tools to support the economy.
But many observers believe much more than $600 billion will be needed. Economists at Goldman Sachs said this fall they believe that to truly fill the private sector demand shortfall, the Fed would need to buy some $4 trillion in securities.
Goldman acknowledged that the political unpopularity of QE2 would make an asset-purchase program of that size unlikely. At the time, economist Jan Hatzius said he believed it was likely the Fed would purchase half that much, or about $2 trillion worth.
But since then the backlash against QE2 has only intensified and U.S. economic data have turned slightly more positive, so Goldman has recently backed away from even that forecast. Hatzius said this week that signs of a more robust U.S. recovery could limit Fed purchases to $1 trillion.