Bernanke on '60 Minutes': Grim outlook for jobs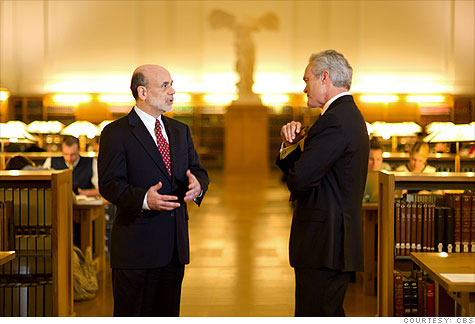 NEW YORK (CNNMoney.com) -- On the heels of a disappointing jobs report, the country's top economist told 60 Minutes the outlook isn't much brighter.
"At the rate we're going, it could be four, five years before we are back to a more normal unemployment rate," Federal Reserve Chairman Ben Bernanke told 60 Minutes in an interview that aired Sunday night.
The 60 Minutes broadcast comes just a couple days after the government released a jobs report bringing two downbeat surprises: the economy added only 39,000 jobs in November and the unemployment rate rose to 9.8%.
Stubbornly high unemployment is one reason Bernanke is standing by the Fed's recent controversial decision to initiate a $600 billion bond-buying program, its second round of so-called quantitative easing or QE2. It is meant to stimulate the economy by keeping interest rates low and encouraging consumers to spend more and businesses to create jobs.
But the plan has drawn a major backlash from both conservatives and global leaders over the past month. Critics argue the policy of low interest rates will feed long-term inflation, artificially devalue the dollar and create asset bubbles.
While Bernanke doesn't address all those topics in the interview, he does stand strong against his critics in three main ways.
He says long-term inflation fears are "way overstated," and the Fed is not just "printing money." Plus, while critics are pointing out QE2's risks left and right, they are not weighing the risks of "not acting," Bernanke said.
Responding to a question about the possibility of additional quantitative easing, Bernanke said: "Oh, it's certainly possible. And again, it depends on the efficacy of the program. It depends on inflation. And finally it depends on how the economy looks." He added that it "doesn't seem likely" that there will be a double-dip recession.
Bernanke also said he's "100%" confident in the Fed's ability to control long-term inflation. "We could raise interest rates in 15 minutes if we have to," he said. "That time is not now."
As Congress debates extending the Bush tax cuts and implementing budget cuts to slash the national deficit, Bernanke also stressed the importance of Congress and the White House doing more to help the recovery.
While the Federal Reserve can help the economy through monetary policy -- keeping interest rates low -- decisions on taxes and spending, or so-called fiscal policy, are left up to lawmakers.
"We don't want to take actions this year that will affect this year's spending and this year's taxes in a way that will hurt the recovery. That's important," Bernanke said. "But that doesn't stop us from thinking now about the long-term structural budget deficit."
He also called the tax code "inefficient."
"By closing loopholes and lowering rates, you could increase the efficiency of the tax code and create more incentives for people to invest," he said.
Bernanke last appeared on 60 Minutes in March 2009 to defend the government's actions during the financial crisis, including its decision to let Wall Street firm Lehman Brothers fail while at the same time stepping in to save insurance giant American International Group.
Television interviews with the chairman are rare, and his second 60 Minutes appearance seems to mark the Fed's efforts to communicate its reasons behind QE2 more clearly to the public. Bernanke also took to writing an op-ed in the Washington Post last month, to defend the bank's decision.