Flawed new $100 bill, $110 billion Fed headache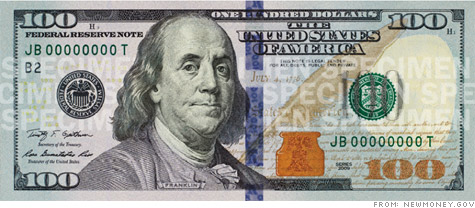 NEW YORK (CNNMoney.com) -- More than 1.1 billion new $100 bills have been put into quarantine while officials search for a solution to a printing problem that has rendered some of the bills unusable, an official familiar with the situation said Monday.
Originally scheduled for a February 2011 release date, the bills were the first run of a high-tech note designed to combat counterfeiting by including a 3-D security ribbon.
The Federal Reserve first acknowledged an issue with the bills in October, but did not specify the scope of the problem.
The flaw -- a problem with sporadic creasing of the paper that results in small blank spaces -- only surfaced during a part of the process that requires high pressure printing, the official said.
That made the flaw difficult to detect during the normal inspection process.
"The Bureau of Engraving and Printing did testing so they could be sure the notes would run correctly," the official said. "Unfortunately the creasing problem did not reveal during testing. It's very difficult to detect."
The Bureau of Engraving and Printing manufactures U.S. banknotes, which are then issued by the Federal Reserve.
The 1.1 billion notes represent a staggering $110 billion in currency.
The notes have not been put into circulation, and instead are sitting in lockup in Fort Worth, Texas, and Washington, D.C., the official said.
"This is something completely unanticipated," the official said. "It's not as simple as, 'Oh there is the problem.' Finding it at all was quite monumental."
Inspections performed by hand reveal that a majority of the notes will be useable, and government printers are currently working on a way to mechanically separate the good notes from the bad, the official said.
A new release date for the updated $100 bill has not been set, but the official emphasized that there will be no disruption in the money supply due to the delay, as the Fed has already ordered printers to produce more of the current design to compensate.
Meanwhile, officials are working with paper suppliers Crane & Co. to resolve the printing issue, while a mechanical solution is sought salvage the notes already produced.
There are approximately 6.5 billion older design $100s currently in circulation.
According to the Federal Reserve, the $100 note is the most widely circulated and most often counterfeited denomination outside the U.S. But the official said the delay in the new note's release won't give the upper hand to counterfeiters.