The 'tax' you can't avoid: Oil prices rising
NEW YORK (CNNMoney.com) -- The price of crude is perilously close to $90 a barrel and the average cost for a gallon of gas is inching toward $3 nationwide. If they keep climbing, that could put a serious dent in economic recovery hopes for 2011.
A spike in oil and gas prices is often referred to as a tax on consumers. That's because people have little choice but to suck it up and pay higher prices. As a result, consumers may spend less on other things that are not considered as vital.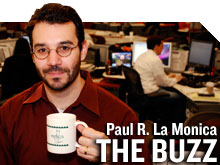 Part of the problem is that the Federal Reserve may be fueling (pardon the pun) the rise in oil with its controversial plan to buy $600 billion in long-term Treasury bonds.
Fed critics argue that this quantitative easing program, the second since the onset of the financial crisis two years ago, may weaken the dollar further and lead to higher commodity prices.
Fed chairman Ben Bernanke defended the so-called QE2 plan in an appearance on 60 Minutes Sunday night.
He also didn't rule out the possibility of more asset purchases if the economy remains weak in 2011. That may give rise to fears of a QE3-inspired super spike in commodity prices.
But Zach Pandl, an economist with Nomura Securities in New York, said he does not think there will be a drastic increase in energy costs.
Pandl argued that the Fed, despite a stance that inflation in the broadest sense is not an issue, is cognizant of how higher oil prices could cause more problems for consumers.
"Higher commodity prices could sap households' real income. That is a concern for the Fed," he said. "It is a clear, tangible cost of quantitative easing and a reason for the Fed to consider whether the expansion of the program is appropriate."
Pandl said consumers should be able to withstand current prices as long as they don't rise much further. He said oil would need to hit $95 to $100 a barrel and stay there before it had a noticeable effect on the economy.
However, Keith Hembre, chief economist with First American Funds in Minneapolis, argues that oil prices could rise to that threshold before long.
"With the Fed pumping more cash into the system, the path of least resistance is higher oil prices yet. I do think we'll grind up to $100 a barrel," he said.
Hembre said that it's clear Bernanke is most interested in preventing deflation and helping to spur an increase in the prices of homes, stocks and other key assets. As such, Hembre is a bit concerned the Fed may be underestimating the impact higher energy prices will have on consumers.

That's not good news at a time when the unemployment rate remains close to 10% and corporations are citing a slow pickup in consumer spending as a reason to not hire a lot more workers.
"Economic growth could be offset to a certain degree from higher commodity prices," he said.
Others also think higher energy prices are in the offing. Tom Kloza, chief oil analyst with Oil Price Information Service, an energy trade publication based in Wall, N.J., said the average cost of a gallon of gas could rise to between $3.25 and $3.50 in early 2011.
That, coupled with the possibility of higher heating oil costs this winter, could make consumers think twice about how much they need to spend on discretionary items next year.
"It's a tenuous recovery and a lot of the recent strength in the economy is based on the notion that there have been great retail sales reports," Kloza said. "But if gas prices spike this spring, that could do a significant amount of damage to consumer spending."
Of course, it is unfair to overlook other reasons for the increase in energy prices. Emerging market economies such as China and India are growing at a healthy clip.
"Oil prices are also rising because of greater demand globally. It's not just quantitative easing," said Pandl.
That may be true. There also are few fears for the time being that oil will approach the record levels of over $140 a barrel from the summer of 2008. Gas prices rose to a peak of $4.11 a gallon in the midst of the oil rally.
But Kloza believes low interest rates for a long period of time will continue to make oil an attractive investment for money managers. That could mean oil and gas prices will rise at a faster rate than what you'd expect from the normal economic forces of supply and demand.
"Will higher prices stick? Oil is almost at $90 because there is a heck of a lot of investment money in oil," he said. "I refer to this as the shadow cartel. Investors believe parking money in oil is a prudent policy over the next few years."
- The opinions expressed in this commentary are solely those of Paul R. La Monica. Other than Time Warner, the parent of CNNMoney.com, and Abbott Laboratories, La Monica does not own positions in any individual stocks.