'AT&T is now the worst carrier' - Consumer Reports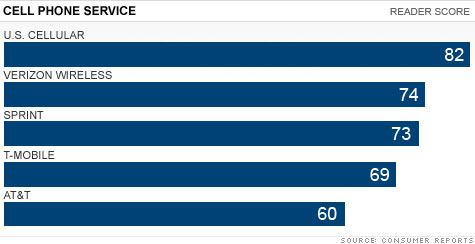 NEW YORK (CNNMoney.com) -- AT&T's customer satisfaction rating tumbled this year, ranking dead last among U.S. wireless carriers, according to a Consumer Reports survey released on Monday.
The nation's second largest wireless network received the worst possible rating in eight of the nine categories the magazine studied, including overall value, voice service, data service, phone support, staff knowledge, and resolution of issues, among others. Readers gave AT&T an overall score of just 60 out of 100, which is six points below its score a year ago and nine points below its nearest-ranked competitor, T-Mobile.
The report noted that AT&T "is now the worst carrier," and is the only wireless network with scores that dropped "significantly" over last year.
More than half of the AT&T (T, Fortune 500) customers surveyed own an iPhone, and the survey found that iPhone owners were "much less satisfied" with AT&T than other smartphone owners were with their carrier. IPhone owners were particularly dissatisfied with AT&T's data service.
AT&T said it is working on solutions.
"We take this seriously and we continually look for new ways to improve the customer experience," said Fletcher Cook, spokesman for AT&T.
The wireless company was quick to point out that independent tests from Global Wireless Solutions have concluded that AT&T's mobile broadband network is 20% faster than its nearest competitor and 60% faster than archrival Verizon Wireless.
AT&T also has tremendous momentum in the wireless space, adding a net 2.6 million new wireless customers last quarter, half of whom were new iPhone customers. That represented far more net additions than any of its competitors.
But the network's momentum will soon face a giant challenge. Fortune and other news outlets have reported that AT&T is about to lose its exclusive hold on the iPhone at the end of the year, and that Verizon will start selling the iPhone beginning in early 2011. As many as 6 million of AT&T's iPhone subscribers could defect to Verizon (VZ, Fortune 500), according to a forecast by Drake Johnstone, a Davenport & Co. analyst.
"Our survey suggests that an iPhone from Verizon Wireless ... could indeed be good news for iPhone fans," said Paul Reynolds, electronics editor for Consumer Reports, in a prepared statement.
At the same time, Verizon is no longer the clear leader in overall satisfaction, a position it has held almost every year since 2003, according to the survey. Verizon led the nationwide carriers with an overall score of 74 -- one point lower than last year.
But Sprint Nextel (S, Fortune 500) made a startling leap forward with a rating of 73, which is six points higher than the previous year. It even surpassed Verizon in some aspects of customer service, which Consumer Reports called "a remarkable turnaround," considering that was a weak point for the network in years past. Sprint was ranked last in the survey as recently as two years ago.
Sprint easily leapfrogged T-Mobile, after that carrier's satisfaction score fell by one point.
The big up-and-comer was regional carrier U.S. Cellular (USM), which was included in Consumer Reports' most recent survey because it is now available in 26 states. The report said the network "stands out for value, voice service, and customer service."