Stocks give up gains, end mixed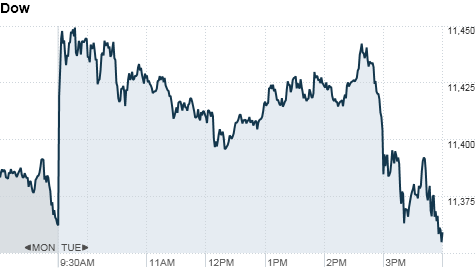 NEW YORK (CNNMoney.com) -- Stocks gave back earlier gains to end mixed Tuesday, as investor optimism over the extension of Bush-era tax cuts gave way to speculation about a widening federal probe into insider trading.
A spike in Treasury yields also tempered enthusiasm.
The Dow Jones industrial average (INDU) fell 3 points, or less than 0.1%, to close at 11,359. The S&P 500 (SPX) ended little changed at 1,224, after climbing to a 2-year high during active trading. The tech-heavy Nasdaq (COMP) rose 3 points, or 0.1%, to 2,598.
Stocks held gains for most of the day as investors welcomed news that President Obama had reached a deal with Republican lawmakers Monday that would extend Bush-era tax cuts for two years and unemployment benefits for 13 months. It would also lower the payroll tax by two percentage points for a year.
But the momentum faded late in the day after Obama, who had wanted the cuts for high-earning taxpayers to expire, said in a press conference that he would push to have them eliminated after the two-year extension is over.
"This gives us the time to have this political battle without having the same casualties for the American people," he said.
Obama said the compromise was necessary to prevent taxes from going up for middle-class taxpayers. But it also reflects the newfound clout Republicans have on Capitol Hill following last month's upset in the midterm elections.
Peter Boockvar, chief market strategist with Miller Taback & Co., said the market turned lower following a report that the government's crackdown on insider trading is accelerating. But he said investors were also nervous about a major sell-off in the bond market.
"I think it has more to do with the shellacking in the bond market," he said. While the deal to extend tax cuts was a positive, "investors can't ignore the spike in interest rates," he added.
The yield on the 10-year Treasury note jumped to its highest level since June, stoking worries that a rising interest rates could slow the sluggish economic recovery.
Stocks ended Monday's session mixed after drifting around breakeven for most of the day. Investors spent most of the day mulling over Federal Reserve chairman Ben Bernanke's pessimistic comments about the nation's economy.
Companies: Bank of America (BAC, Fortune 500) agreed to pay $137 million in fines to federal and state regulators to settle charges of bid rigging in the municipal bond derivatives market. Shares rose 0.5%.
The Treasury Department said Monday afternoon it planned to sell 2.4 billion Citi (C, Fortune 500) common shares, priced at $4.35 a share.
That gives the government a $12 billion profit, including dividends and interest payments, on its $45 billion Citi bailout. Company stock rose 14 cents, or 4%, to $4.60 per share.
3M (MMM, Fortune 500) said it expects full-year earnings will be between $5.90 and $6.10 per share in 2011, on sales of up to $30.5 billion. Analysts had been expecting earnings of $6.20 per share, according to consensus estimates from Thomson Reuters. Shares of the company fell 3%.
AGL Resources (AGL) and Nicor Inc. (GAS) announced a merger creating a leading U.S. natural gas distribution company. The combined company will be known as AGL Resources. Shares of AGL were down 5.8%, while shares of Nicor rallied 4%.
Currencies and commodities: The dollar rose versus the euro and the yen, but remained weak against the U.K. pound.
Oil for January delivery fell 69 cents to end at $88.69 a barrel. Earlier, prices rose above $90 a barrel for the first time since October 2008.
Gold futures for February delivery fell $7.10 to settle at $1,409 an ounce, after reaching a new intraday high of $1,432.50 earlier in the session. Gold settled at a record $1,416.10 an ounce Monday.
Silver for March delivery gained 51 cents, or 1.7%, to $30.25 an ounce. Earlier in the session, silver topped $30.75 an ounce -- a new 30-year high.
World markets: European stocks ended higher. Britain's FTSE 100 added 0.9%, the DAX in Germany gained 0.8%, and France's CAC 40 surged 1.9%.
Asian markets ended the session mixed. The Shanghai Composite added 0.7% and the Hang Seng in Hong Kong jumped 0.8%, while Japan's Nikkei shaved 0.3%.
Economy: Consumer credit increased $3.3 billion in October, according to the Federal Reserve. Economists surveyed by Briefing.com had expected a $2.5 billion decrease. This follows September's $2.1 billion increase in consumer credit.
Bonds: The price on the benchmark 10-year U.S. Treasury fell, pushing the yield up to 3.16% -- a level not seen since late June.