Stocks headed for a flat open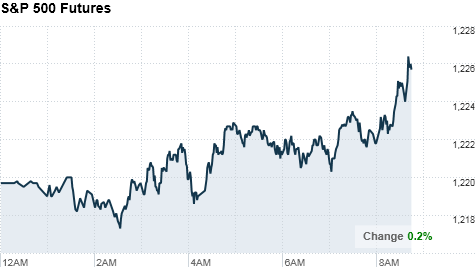 NEW YORK (CNNMoney.com) -- U.S. stocks were poised to open little changed Wednesday, as investors took a step back and awaited updates on the tax cut extension deal.
S&P 500 (SPX) futures and Nasdaq (COMP) futures rose slightly, while Dow Jones industrial average (INDU) and were very slightly higher. Futures measure current index values against perceived future performance.
Stocks ended mixed Tuesday as investor optimism over the extension of Bush-era tax cuts faded.
Stocks had been higher through most of the session, but lost momentum late in the day after President Obama's comments about tax cuts for those making more than $250,000 a year. At a news conference, he said he would push to have them eliminated after the two-year extension is over.
With little economic news due, investors are still watching the developments of the tax cuts deal.
"The big driver currently is the announcement by Obama and the Republicans to extend the tax cuts for another two years, so people are waiting to see what the final outcome of that is," said Nino Jimenez, senior vice president at Brinson Patrick Securities Corp. "We don't know what the final details are going to look like. There has been voiced opposition by the Democrats."
Assuming the deal passes, it will be largely positive, according to Jimenez. "I assume it will largely pass, but as they say, the devil is in the details," he said.
Companies: Costco (COST, Fortune 500) reported an increase in both sales and profit for its fiscal first quarter that beat estimates. Net income rose 17% to $312 million compared to $266 million in the year prior. And earnings per share increased 18% to 71 cents per share. Shares of Costco were slightly lower in premarket trade.
Fortune Brands (FO, Fortune 500), maker of Jim Beam whiskey, Titleist golf clubs and home security systems, said it will split into three separate businesses -- retaining its liquor operations, spinning off its home products and security unit and selling its golf properties. Shares rose 3% in premarket trading.
Johnson & Johnson (JNJ, Fortune 500) made a $2.3 billion bid for the rest of vaccine-maker Crucell. Shares of Johnson & Johnson were up 0.3% in premarket trade.
World markets: European stocks were very slightly higher at midsession. Britain's FTSE 100 gained 0.2%, the DAX in Germany was flat and France's CAC 40 added 0.8%.
Asian markets ended mixed. The Shanghai Composite lost almost 1%, the Hang Seng in Hong Kong lost 1.4% and Japan's Nikkei added 0.9%.
Currencies and commodities: The dollar gained against the euro and the Japanese yen, but lost ground against the British pound.
Oil for January delivery slipped 17 cents to $88.52 a barrel.
Gold futures for February delivery fell $17.80 to $1,391.20 an ounce.
Bonds: The price on the benchmark 10-year U.S. Treasury fell, pushing the yield up to 3.19% from 3.13% late Tuesday. The yield was the highest since late June.
Government bond yields have been rising as concern over the growing budget deficit grows. "They are trying to give the economy a more of a shot in the arm, but giving some of these tax cuts will allow the deficit to widen," said Jimenez. "Bond investors don't like wider deficits"