Yes Virginia, there is a Santa Claus rally
NEW YORK (CNNMoney.com) -- Lower tax rates may not get the economy back on track again. But they may spare investors from a nasty little sell-off at the end of the month.
Some market strategists said they are worried that if Congress does not approve the tax compromise that President Obama hammered out with Republican leaders Monday night, people may dump stocks in droves in order to lock in profits at lower capital gains rates.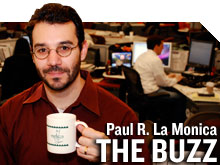 The current long-term capital gains rate is set to go up from 15% to 20% at the stroke of midnight on Jan. 1 if the Bush-era tax cuts are not extended.
"If the announcement is signed, sealed and delivered, a lot of selling pressure will be mitigated," said Quincy Krosby, market strategist with Prudential Financial in Newark, N.J. "If uncertainty persists, that's the last thing the market needs."
So far, the impact of the compromise on stocks has been fairly muted. Stocks rose initially Tuesday morning before settling back at the end of the day. The major market barometers were all relatively flat on Wednesday as well.
But extending the tax cuts may do more than just merely prevent a market bloodbath. It could help stocks head higher for the remainder of the year and into 2011 -- a December phenomenon that traders often refer to as the Santa Claus rally.
"Stocks could head up through the end of the year. The fundamentals are in place for a good market rise," said Brian Gendreau, market strategist with Financial Network Investment Corp., a Segunda, Calif.-based advisory firm.
"Valuations are reasonable by historical standards, earnings are projected to be strong and there are signs of life in retail sales," he added.
Gendreau said the lackluster reaction to the tax cut compromise may be a reflection that investors are still nervous about whether a bill will get passed before the end of the month. But he believes a deal will get done.
"I assume Congress will pass it. So hopefully we will never have to know what will happen if capital gains rates and other taxes go up," he said.
Getting a tax deal finalized is key for several reasons.
For one, consumers may spend more if they have a smaller tax bill, said Bernie Williams, a portfolio manager at USAA, a San Antonio-based investment firm.
He conceded that the tax cut compromise is another example of kicking the deficit reduction can down the road. But Williams thinks that investors are more worried about sluggish growth in the near term. So anything that can boost spending, even incrementally, is something that should lift stocks.
"The reduction in the payroll tax should lead to money right away in the pockets of folks -- and that money will get spent. That's good for businesses and the market," Williams said.
Krosby added that extending the tax cuts could also improve market sentiment. She argues that Obama's decision to work with Republicans is a positive sign.
"This suggests that the president is becoming more pragmatic," she said. "It is indicative of a president who is not just moving to the center but determined to show that the government can establish a pro-growth strategy. That's helpful to investors."
Krosby points out that the White House may need to be more serious about working closely with the Republican-led House in order for Obama to increase his chances of getting re-elected. That also could be beneficial for investors.
"The stock market tends to do better in the third year of a presidency, particularly when you have an incumbent that wants to run again and win," she said.
Just look back to 1995. In the 1994 mid-term elections, President Bill Clinton suffered an even worse "shellacking" than Obama did this November. Republicans gained control of the House and Senate.
But a year later, Clinton was more willing to compromise in order to boost his own bid to stay in the White House. And investors responded nicely to his more centrist policies. The S&P 500, following a dip in 1994, surged 34% in 1995.
John Derrick, director of research for U.S. Global Investors San Antonio, said the market is hoping for a repeat of that scenario.
Sure, there is a saying that Wall Street loves gridlock. And it's probably true that having different parties control the legislative and executive branches is a good thing.
But bipartisan rancor rarely does any good. If politicians actually work together to try and solve some of the short-term problems facing the economy, that could be extremely positive for stocks.
"The market wants a more positive tone out of Washington, D.C. Yes, the compromise doesn't address the deficit. But it was a good balance between tax cuts and extending unemployment benefits," Derrick said.
So if the continuation of lower tax rates does actually get approved, expect a hearty cheer of "Ho ho ho" from Wall Street for the rest of December and into 2011 as well.
- The opinions expressed in this commentary are solely those of Paul R. La Monica. Other than Time Warner, the parent of CNNMoney.com, and Abbott Laboratories, La Monica does not own positions in any individual stocks.