Utah oil sands project draws fire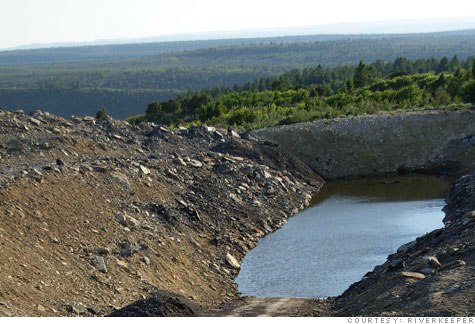 NEW YORK (CNNMoney.com) -- A plan to bring the first oil sands development to the United States is drawing stiff opposition from environmentalists concerned about global warming and water use, but backers of the project insist their new process is safe.
Earth Energy Resources, a small Canadian start-up, wants to produce 2,000 barrels of oil a day using oil sands from a site in northeast Utah.
Oil sands are just that - sand laced with a heavy oil known as bitumen.
The sands are plentiful in parts of the western United States and in Canada's Alberta province, the latter exporting over 1 million barrels of oil a day to America. Some estimates say there are more oil sands and other unconventional forms of oil in North America than there is light oil under the Saudi desert.
But oil sands production is expensive and usually comes with high environmental costs.
The sand itself is often extracted by open-pit mining, an unsightly process that can lead to ground water contamination and other environmental issues.
And separating the oil from the sand requires massive amounts of heat, chemical solvents, and water, which many say makes the sands an unworthy endeavor. Water usage is what has kept the operation largely out of the dry Western states.
Earth Energy says it has a novel process that uses half the water of their Alberta cousins and an eco-friendly, citrus-based solvent.
Standard oil sands production uses about 126 gallons of water for every barrel of oil.
Land has been leased and trial tests conducted. If it all works out, Earth Energy will sell the oil to a refiner in the area, which will then turn it into diesel fuel, heating oil, kerosene, or a variety of other heavy-oil products.
What the company needs now is $35 million in scale-up funding, and a challenge from environmentalists to go away.
"This process makes absolutely no sense," said John Weisheit, a former river guide who's now the conservation director for Living Rivers, the local branch of the Waterkeeper Alliance. "Utah is the second driest state in the country. Even if it took just a drop of water, there's not even that."
Earth Energy has already obtained the rights to extract ground water in Utah, but Weisheit says those permits don't take into account how climate change will affect an already dwindling water supply.
Weisheit said the amount of water in the local watershed is expected to fall by 20% over the next couple of decades. He said water levels have already dropped by more than that over the last decade.
He doesn't believe there will be enough to support oil sands development and the needs of the people and industry that already depend on water from this region.
Plus, oil sands will make global warming worse.
Because of the energy needed to separate the oil from the sand, Weisheit said this operation results in three times the carbon emissions as a conventional oil well.
"Let's get real and deal with the real problem," he said, "We're running out of oil. We don't need to eviscerate the environment to get every last drop."
Living Rivers has hired lawyers to fight the project. They lost a plea to state regulators to revoke Earth Energy's permit back in September, but are appealing that decision. The hearing is set for January. If that fails, the group is planning on going to court.
Earth Energy would like to get all this behind them before ramping up production.
The company already faces huge challenges. Analysts say raising the massive sums of money necessary to develop the economies of scale that can compete with the energy giants is the hardest part for a start-up in this space. Forget $35 million, Big Oil drops billions on a single project.
Earth Energy's new technology is unproven on a large scale and it's uncertain whether oil sands production in the Untied States will ever take off. The U.S. Energy Information Administration doesn't address it in its long-range forecast, citing the fact that no major firms have shown interest in it.
As for the environmental challenges, Earth Energy CEO Glen Snarr says they are overblown.
While oil sands may take more energy to produce, they only emit 5% to 15% more carbon than traditional oil over their entire lifecycle, according to a report from Cambridge Energy Research Associates. That's mainly because most of the emissions come from actually burning the stuff in an engine, not in the extraction process.
And global warming or not, the company clearly believes there's plenty of water in Utah to get the job done.
"We're not in this to lose money," said Snarr. "We're in this to produce oil in an environmentally sustainable manor."