Playing Russian roulette with fake drugs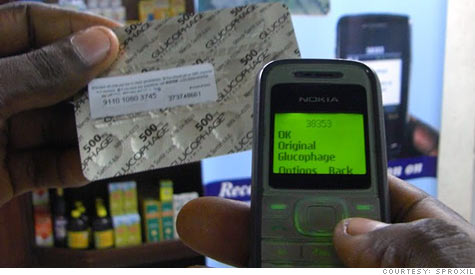 (CNNMoney.com) -- Last year, 84 young children died in Nigeria after they used a counterfeit teething medication. The product contained diethylene glycol, a chemical found in antifreeze, instead of glycerin, a sweet and harmless syrup.
Diethylene glycol looks a lot like glycerin. But it's cheaper -- and that means bigger profits for counterfeiters.
The tragedy wasn't an isolated one. More than 30% of medications on sale in many African countries, along with parts of Asia and Latin America, are counterfeit products, according to estimates from the World Health Organization.
That problem haunted Ashifi Gogo, a Ghana-born entrepreneur. Last year he decided to do something about it, launching a startup called Sproxil in Somerville, Mass.
Sproxil offers an effective and deceptively low-tech method for consumers to verify that the medicine they are buying is the real thing. Drug manufacturers package their products with a scratch-off label concealing a unique code. When a purchaser sends that code, free of charge, to Sproxil using an SMS text message, it gets checked against a database of codes to confirm the drug's authenticity. The result is texted back to the consumer within a minute, along with targeted health information like a reminder to take the medication with meals.
Sproxil's system allows every party in a supply chain to verify a medication's authenticity, which prevents counterfeit goods from getting swapped into the pipeline on the way to end-users. The system is geared toward emerging markets, where the problem of counterfeit medication is greatest and where more sophisticated anti-counterfeiting technologies -- such as machine-readable barcodes and holograms -- generally don't work.
"We operate in countries where even electricity isn't guaranteed," Gogo says.
But cell phones are nearly ubiquitous in many developing world markets and continue to proliferate, allowing Sproxil to take advantage of consumers' widespread access to mobile handsets.
In June, Sproxil won the Boston edition of SmartCamp, a global entrepreneurship competition sponsored by IBM (IBM, Fortune 500). Eric Apse, an IBM Venture Capital Group partner who runs the SmartCamps in North America, thinks Sproxil can solve a serious problem -- and provide market intelligence, too.
"They will be collecting a lot of data about not only counterfeited medications, but how and when medication is being sold, which isn't easy to track in the developing world," Apse explains. "There's a lot of marketing potential in that."
Sproxil got a trial run in Nigeria earlier this year, when 735,000 of the company's scratch-off labels were affixed to the diabetes drug Glucophage, manufactured in Germany by Merck KgaA. The trial lasted 100 days. More than 11,000 text messages were received.
Glucophage is distributed in Nigeria by BIOFEM Pharmaceuticals, which was so pleased with the results that it hired Sproxil to continue the service after the trial ended in May. So far, Sproxil has labeled 1.5 million individual product packages on the Nigerian market.
Femi Soremekun, the CEO of BIOFEM, says the labeling system has become the standard in Nigeria for Glucophage.
"No one will buy it now without the Sproxil label," he says. "Before this, we were losing a lot of money. Now our sales have come back to what they were before the counterfeiting and exceeded it by 10%."
On the heels of that success, Gogo says he has booked sales that will produce revenue "in the hundreds of thousands of dollars." He won't go any further into the financial details.
The obstacles ahead
But the company faces challenges on a few fronts. Foremost is consumer education. If people don't know about the labels and how to use them, they won't.
In Nigeria, Sproxil worked with both pharmaceutical companies and the national government to educate consumers. It rolled out a public campaign stressing the high percentage of fake drugs in the country and the associated health risks. "We faced a lack of consumer interest," Gogo says. "So we needed to get out the message that when you go to the counter to buy a medication, you're playing Russian roulette."
Sproxil also needs to educate potential investors. Gogo bootstrapped the company with $300,000. He's now seeking $4 million to keep it growing.
Investors are skeptical, however, that a strategy built on mobile phones will work in developing nations. Even Gogo was surprised at how many Africans own cell phones. According to statistics from the Nigerian government, 56% of that country's citizens own cell phones.
"Believe it or not, they usually have two," Gogo says. "These aren't new phones, of course. They are low-cost and pay-as-you-go. But they have them."
Gogo is also worried about competitors duplicating his technology. The very reason Sproxil's solution works in developing nations -- its ease of use --makes it an obvious target for copycats. Although the company has two patents pending, intellectual property rights aren't strongly enforced in the developing world. And the irony of someone knocking-off an anti-counterfeiting technology isn't lost on Gogo.
Yet the more drugs Sproxil's service protects and the more partnerships it forges with pharmaceutical companies, the better its chances of becoming the de facto standard for fighting counterfeiters. That will make it tough for other companies to enter the market.
And that market has tremendous potential. Opportunities for anti-counterfeiting solutions also abound for medications available over the Internet, where the World Health Organization estimates that more half the drugs sold are fake. Sproxil's service isn't restricted to drugs, either. It could extend to all kinds of consumer products, from baby food and cosmetics to cigarettes and bottled water.
"Any product we put in our bodies represents a potential risk," Gogo says.