What Howard Stern's $400 million Sirius contract means to the Street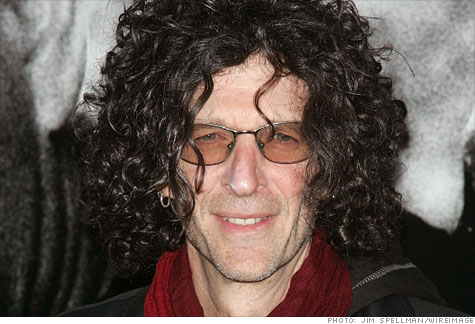 FORTUNE -- Howard Stern took more than 35 minutes during his show this morning to make the announcement, but the news that he had renewed with Sirius XM Radio (SIRI) for another five years came as no surprise to analysts who saw the company's shares jump more than 10% afterwards.
The controversial radio shock jock made headlines five years ago when he signed his first five-year contract worth $500 million -- $80 million in cash each year and $100 million in stock - making him far and away the highest-paid radio personality today.
This time around, he seems to have the same kind of cash deal, just without the stock, so $400 million for five years, according to The Daily Beast. Some of that money goes to production costs and salaries for Stern's show, and ultimately the figure won't be confirmed until Sirius XM makes necessary regulatory filing with the SEC.
Fortune reached out to analysts to figure out how much Stern will likely make in the years ahead and how his continued presence benefits Sirius XM.
Brett Harriss, Gabelli and Company
I don't think Howard Stern is as important as he was five years ago, especially to Sirius, which has such a broad content lineup. But I do think Sirius wants to make sure nobody else has him, and they'd much rather have demand for Howard just sort of peter out over the next five years than just have a big newsworthy even that just gives people an excuse to cancel.
The original deal was negotiated like most of their content deals when XM and SIRIUS were at war with programming. Since the merger in 2008, whenever a programming contract has come up for renegotiation, no matter who [the talent is], they've come down significantly -- on the order of 50%.
When I pull a number out of the air, I'd say he goes from getting $100 million to getting $60 or $70 million, or a 30% of 40% pay cut. I don't think they're going to get the 50% knock down they got with say, Martha Stewart, because he is the 'Oprah of radio.' He's fantastic, but it'll probably be significant. He's going to get a lower total number, but they're not going to disclose it because they don't want to bruise his ego.
Howard also probably negotiated to work a little less. He often says, 'Oh, I can't believe I'm doing this anymore. I should sit at home and enjoy my money.' So, maybe he goes from four to three days, which will be good for SIRIUS because ultimately, they'll be paying him less. [Peter Lauria of The Daily Beast seemed to confirm that Stern will scale back his workload some.]
Barton Crockett, Lazard Capital
I'm assuming he's getting $80 million in cash a year, which is what he was getting before. I'm just assuming he's not getting stock again. I'm also assuming it's the same amount of cash and I'm assuming for now, he loses the stock component. But there's a lot of wiggle room with the margins here. (Editor's note: Ding! On the money.)
For Stern, it's probably important to face the world and say you didn't take a big pay cut, even though god knows he's making enough money to pay the rent. And I think from Sirius' perspective, trend costs overall are trending down and Howard Stern's a very big component. Historically, they've been spending $350 million a year on programming, of which $80 million in cash was Howard. I'd argue it's not a massive change, but if anything, I'd shade a little lower.
We would guess that maybe 1 to 2 million subscriptions came into Sirius five years ago because of Howard Stern and that would basically be close to awash with what they're paying him. If he left and he lost all of those subscriptions, you'd have to lower subscriptions, but you'd also have to lower revenues and costs, which would also be close to awash in terms of earnings.
But in reality, you wouldn't lose all those subscriptions. You'd lose a fraction of what he brought in because they've been around five years and they've probably found other things they like on satellite radio.
David Joyce, Miller Tabak
We are expecting a reduced rate of $60 million per year for Stern from $80 million a year, although terms have not yet been disclosed. (Editor's note: as of the time of this interview.)
Had he left, and if there had been a 1 million subscriber loss as a result, we estimate there could have been a modest $12 million operating income before depreciation and amortization (OIBDA) hit and a $64 million free cash flow (FCF) hit versus our prior 2011 estimates, and a moderate stock pullback could have resulted in a positive view of the shares. But if 1.5 million subscribers had left, our model would have pointed to a $48 mm OIBDA hit and a $126 million FCF hit, which start to look more material to the stock outlook.
Matt Harrigan, Wunderlich Securities
The variables are Stern's annual compensation, the number of listeners who would defect to a Stern streaming service or terrestrial radio, and the duration of any new contract. We assume a 70% monthly ($9+) variable cash flow contribution on each Stern fanatic and a low 1.5% churn rate. We run compensation iterations at $75 million, $100 million, and $150 million. We are neutral between a five-year contract at $100 million and losing one million customers.
That last bit of analysis might be the most fascinating: Stern is so expensive, the savings from him leaving would pretty much offset the loss of subscribers. But for someone of Stern's stature, the hit to Sirius XM's prestige over the loss might've been too much for CEO Mel Karmazin to handle.