Dell in 'take-under' talks with Compellent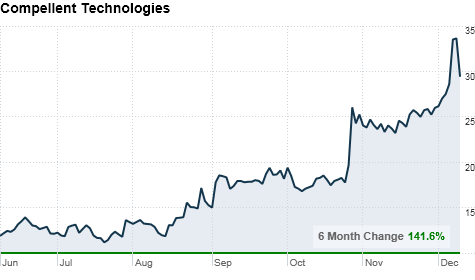 NEW YORK (CNNMoney.com) -- Dell Inc. said Thursday it was in talks with Compellent Technologies to buy the storage company for $27.50 per share.
The only problem: Compellent's stock closed at $33.65 a share on Wednesday afternoon.
Takeover bids are typically offered at a premium in order to entice a buyout target to sell itself. But Dell's bid is for nearly 20% less than Compellent's trading price prior to the announcement of the deal. Nicknamed a "take-under," the maneuver is a rarity in business.
Shares of Compellent (CML) fell 13% to $29.25 after the news was announced on Thursday. Dell's (DELL, Fortune 500) shares were unchanged.
Dell did not say why its bid was for less than the current share price, but it likely has to do with Compellent's unusual stock movements in recent months. Before mid-August, Compellent's shares had been hovering around $12 for more than four months.
But on Aug. 16, Dell made its first offer for storage company 3PAR. Hewlett-Packard (HPQ, Fortune 500) subsequently made a higher offer and Dell and HP wound up in a month-long bidding war.
HP ultimately won the battle for 3PAR, but at a price. HP paid a whopping 242% premium over the value of 3PAR's stock before the bidding war began.
That drove many other storage companies' stocks up, including Compellent's, as investors figured that the bidding war's loser would probably pick up one of 3PAR's competitors.
By late October, Compellent's stock rose to $20, and on Monday, the stock rose above $28. Rumors of a takeover on Tuesday and Wednesday sent the stock up another 18% over the past two days.
Before Thursday's market open, Compellent's stock was trading at a stunning 91 times Wall Street analysts' earnings estimates for 2011.
Analysts say such a high share price was untenable and that a bidding war is unlikely.
"I don't see anyone in the world paying $33 for Compellent, so this is probably the best deal they were going to get," said Kevin Hunt, analyst at Hapoalim Securities.
Dell's CFO Brian Gladden told CNNMoney.com last month that dealing for storage companies would take a great deal of finagling after the 3PAR bidding war set a high bar.
"The issue is that there's high demand in this space and a bit of a scarcity factor out there, so we'll have to be pretty darned patient," he said. "After 3PAR, all of those other assets are going to sell at high multiples. Every board is using 3PAR as a starting point, and their expectation is that their valuation will be at an all-time high."
The boom in cloud computing has generated a tremendous amount of need for storage. Dell already owns Equallogic, one of Compellent's chief competitors, and it recently bought Boomi, a cloud integration platform.