S&P 500 gets 21st century makeover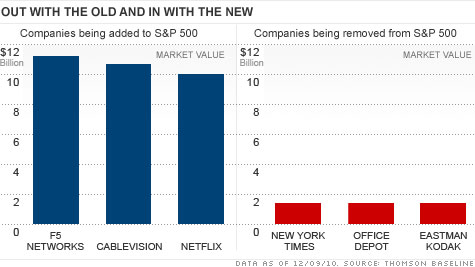 NEW YORK (CNNMoney.com) -- It's a sad day for the Luddites of the investing world.
Eastman Kodak (EK, Fortune 500), a company once so dominant that it was in the Dow Jones industrial average for 74 years, is now so small that Standard & Poor's is removing it from its benchmark S&P 500. Newspaper publisher The New York Times Co. (NYT) is also getting the old S&P heave-ho. Ditto for struggling retailer Office Depot (ODP, Fortune 500).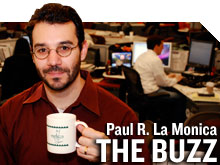 Another S&P 500 constituent, King Pharmaceuticals (KG), is being removed as well. But it's not because of obsolescence. King is getting acquired by drug giant Pfizer (PFE, Fortune 500).
But what's really interesting is who's being added to the index.
Two new S&P 500 companies in particular, online video streaming and DVD rental giant Netflix (NFLX) and data equipment maker F5 Networks (FFIV), are prime examples of hot tech stocks that traders love because of their strong earnings momentum.
Netflix's stock is up about 250% this year, thanks to expectations of robust sales and earnings growth. And analysts are forecasting an annual earnings increase of 30%, on average, for the next few years.
F5 is also firing on all cylinders. Its stock has risen 164% in 2010. Profits are expected to grow at a steady annual 23% clip over the next few years.
Another of the S&P 500 additions, Cablevision (CVC, Fortune 500), has its roots in old media, but it has also been morphing into more of a growth stock. Analysts expect earnings to increase 40% this year and 45% in 2011. Shares of Cablevision are up nearly 35%.
The fourth company being added is oil and gas company Newfield Exploration (NFX).
Fund managers who own some of the newest members of the S&P 500 club said that their inclusion is a measure of the success and validation of the tech boom that's transforming the economy and markets.
"The world is changing a lot. Some companies are able to adjust and have done extremely well," said Dan Boone, managing partner with Atlanta Capital, an investment firm in Atlanta that owns Netflix, F5 and Newfield. "Being added to the S&P 500 is acknowledgment that these companies are becoming larger and more important," Boone added.
An executive with F5 shared that assessment.
"Its a surprise and tremendous accolade that we're pleased about. It underscores the importance of technology and Internet in influencing our everyday lives," said Dan Matte, senior vice president of marketing and business development for F5.
Still, it's important to remember that Standard & Poor's isn't explicitly looking for momentum stocks when making changes to its indexes. Standard & Poor's has several criteria for how it selects companies to add or remove from the S&P 500. Growth is not specifically one.
S&P does indicate that it generally wants companies in the S&P 500 to have a market value of at least $3 billion. And market value is, of course, a sign of both a company's growth and relevance in the market.
The four new companies have market values around $10 billion. Kodak, The New York Times and Office Depot, on the other hand, each have market values under $1.5 billion.
Kodak and The New York Times are two clear examples of companies that have been unable to fully take advantage of emerging technology and changing consumer behavior. And Office Depot got crushed by other competitors, such as Staples.
So it only makes sense that those three companies would be removed and replaced by more rapidly growing ones in more dynamic industries.
"The bottom line is tech is an area doing extremely well. If sales and earnings are growing at a strong clip at a time when the overall economy is so-so at best, the market is rewarding that,"said Sunil Reddy, a portfolio manager focusing on tech stocks for Apex Capital Management Dayton, Ohio. F5 is one of Apex's largest holdings.
Still, investors need to be careful of getting too excited.
Many tech companies were added to the S&P 500 in the late 1990s as their stocks were lifted to ludicrous heights during the dot-com investing frenzy. Several of those companies were subsequently removed once their market values came back to earth.
This isn't to suggest that Netflix and F5 are now overvalued bubbles waiting to pop. But investors shouldn't rush out to buy the new S&P 500 stocks just because they are now in the index.
All four new S&P 500 companies rose Friday on what's dubbed the index effect. Mutual funds and exchange-traded funds that mimic the S&P 500 will be required to buy the new members.
"This isn't something to react to even though it creates some demand for the stocks," said Bob Bacarella, manager of the Monetta Mid-Cap Equity fund in Wheaton, Ill., which owns Netflix and F5.
"We're delighted they're in the S&P 500 but for the longer-term, it's a non-event. This is a temporary blip," Bacarella said.
Reader comment of the week. Talk of a tax compromise dominated the headlines this week. But even if Congress extends the Bush era cuts, consumers may still be hit with another "tax": Higher oil and gas prices. And that's something I think more people need to be worried about. Chad Pieper agrees.
"This is the single fastest way to kill the recovery. Why is it so hard to see that if the the price of gas were to be cut in half, people would have an extra couple of hundred dollars to pump back into the economy," he wrote.
-- The opinions expressed in this commentary are solely those of Paul R. La Monica. Other than Time Warner, the parent of CNNMoney.com, and Abbott Laboratories, La Monica does not own positions in any individual stocks.