IKEA workers get wheels. (Assembly required)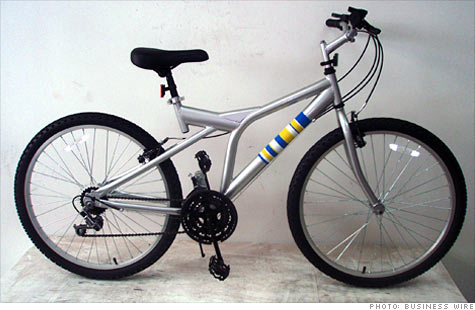 NEW YORK (CNNMoney.com) -- Employees of the Swedish furniture retailer IKEA can now go to work in two-wheel style.
All 12,400 U.S. IKEA employees walked away from work this week with a silver mountain bike, a gift the company says is a big thank you to workers for a great year.
"This is our way of saying 'thanks IKEA co-workers for being strongly committed to working together,' " Mike Ward, IKEA U.S. president, said in a statement.
The company does not give a holiday gift every year, and last year employees received a $50 restaurant gift card, IKEA spokeswoman Mona Astra Liss said.
IKEA said it hopes the bikes will help employees by supporting a healthy lifestyle and providing "everyday sustainable transport."
The bicycles were received "with incredible enthusiasm," Astra Liss said, adding that IKEA customers have responded positively as well after hearing about the gift.
As those who have bought a bookshelf at IKEA might expect, some assembly is required. Employees have to add the seat, pedals and one wheel to complete the process.
Not every business is celebrating a successful year the same way.
Despite record profits, some Wall Street banks are even asking employees to pay to chip in for their own holiday parties.
Only 79% of businesses were expected to throw a holiday party this year, according to a survey released last month by research firm Amrop Battalia Winston. That's the worst turnout since at least the 1980s.