Clearing the air on electric cars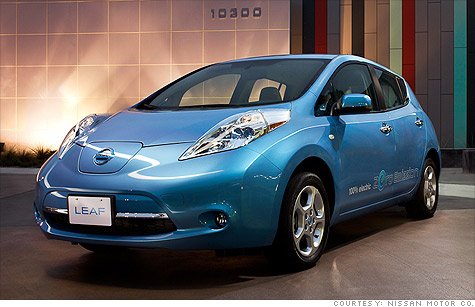 NEW YORK (CNNMoney.com) -- Ever since electric cars began commanding headlines a few years back, some have questioned whether the vehicles are really better for the environment.
Typical arguments look more or less like this one posted by a Facebook user in response to a CNNMoney.com story:
"What is the point of the plug-in when electricity has a carbon footprint since it's generated mostly by coal?"
Close to half of the country's electricity does come from coal, so it's a reasonable question.
It's true that running cars on electricity doesn't completely offset the environmental impact. A look at the numbers, however, shows that electric cars, taken as a whole, are cleaner than conventional gasoline or diesel powered vehicles. And the gap should widen.
Two separate air problems: When it comes to cars and electricity, there are two types of "air pollution" to think about. One is "pollution" in the traditional sense, dirty stuff in the air from power plants we don't want to breathe in. The other is carbon dioxide, the main gas most scientist say is behind global warming.
When it comes to either, it's coal generated electricity that causes the most concern. That's because coal emits a lot of CO2 and other pollutants.
Burning coal produces about three times as much carbon dioxide as gasoline, according to the Department of Energy. But an electric car, having a more efficient motor, can travel about three times as far using the same amount of energy. For instance, the Nissan Leaf gets 99 miles per "gallon equivalent" of electricity. So in the end, if all the electricity came from coal, the environmental impact would be about even.
But not all electricity comes from coal. The other half comes mostly from natural gas and nuclear power, both of which are far cleaner than coal.
The make-up of the nation's electric power infrastructure varies from region to region, however.
Northwestern states, with their abundance of hydroelectric dams, have particularly clean power. States in the Midwest rely more heavily on coal.
In the near term, people in heavily coal-dependent states would probably reduce emissions the most by buying conventional hybrid cars that don't draw power from the electric grid but instead generate electricity from their own engine and braking power, said Deron Lovaas, vehicles campaign director at the Natural Resources Defense Council.
In the longer term, shifting to all-electric cars will almost certainly result in lower CO2 emissions, he said, because most new power plants coming on-line nationally are not coal-fired. That point was echoed by Mark Duvall of the Electric Power Research Institute.
"New capacity is either natural gas or renewable," Duvall said.
Dirty air: Another problem with air pollution from cars is that it goes where the cars go and concentrates where the cars concentrate. Wouldn't it be better if tailpipe emissions from cars could be released far away instead of in cities and down near the ground where we are?
Well, that's one clear advantage of the electric car's "long tailpipe" -- the pollution from power plants is released where the plant is located, usually miles away from town.
But there's another major advantage, too. With internal combustion cars, the more cars on the road, the more pollution they'll produce.
Due to regulatory constraints on both the state and federal level, emissions from electrical power plants are controlled. As those emissions allowances are tightened, coal plants are bound to become cleaner.