Ultimate electric car challenge: Dead batteries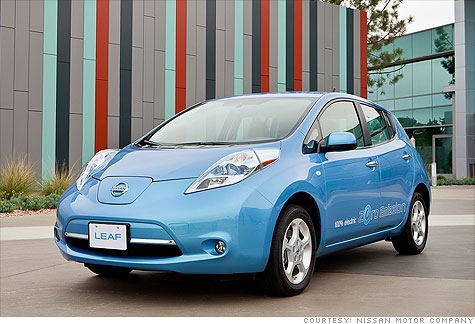 NEW YORK (CNNMoney.com) -- We've all had to get rid of spent lithium-ion batteries from laptops and cell phones so it's natural to worry about the ones in electric cars.
Won't those eventually have to be disposed of, too? Are they just going to sit rotting in land fills fouling the environment?
Probably not. First, the lithium-ion batteries used in electric cars are less dangerous to the environment than most other batteries to begin with. That's because they don't contain large amounts of toxic rare earth metals. Second, all kinds of batteries, large and small, are routinely recycled and electric car batteries can be, too.
But lithium-ion electric car batteries do present a challenge. What to do with all the used batteries and all the recycled battery parts?
You can't recycle anything unless there's a market for the recycled products and, so far, it's not clear how big the market will be for half-used lithium batteries and battery parts.
At least the industry has a long time to figure it out. It will be many years before large numbers lf lithium-ion car batteries need recycling. That's because every electric car battery battery is expected to have a three-part life span that could take many years to run through.
Think of it as "work, retirement and death."
"Work" means running a car, and that's a tough life. Even so, the batteries in electric cars are expected to last about a decade before they can't cut it anymore. But just because they can no longer propel a car doesn't mean they'll be entirely useless.
"We believe that, at the end of the life of the vehicle, the battery will have on the order of half its original capacity," said Greg Cesiel who heads GM's engineering programs for battery-driven vehicles.
Too weak to drive a car anymore, they'll enter "retirement." The most commonly suggested use for retired batteries is at utility companies as excess capacity or for storing extra energy from wind or solar farms.
"All utility companies have to plan for that absolutely worst day of the year," said Mark Perry, director of product planning for Nissan.
Toyota, however, remains skeptical that used batteries will find a viable market.
"So far, I'm not aware of any robust businesses plan out there that thinks this is going to be possible," said Toyota environmental spokesman John Hanson.
After they're too weak even for "static" uses -- this would be years later but no-one's sure how many years -- they're officially dead. Then they'd be packed off to recyclers to be ripped apart, smashed up and maybe even melted down. Usable parts and substances would be sold off, in most cases probably to battery companies or carmakers to become parts of new batteries.
Recycling is hardly a new idea in the auto industry. In fact, it's common practice. Ford Motor Co., for example, estimates that 95% of its cars and trucks are ultimately processed for recycling at scrap yards and that 80% of the material in its cars, by weight, is recyclable.
Batteries, in particular, are commonly recycled.
The little lunch-box sized lead-acid batteries found in most cars and the big nickel-metal hydride battery packs in hybrid cars have been getting recycled for years.
Lithium-ion batteries will be tougher to do that with, said Toyota spokesman John Hanson.
"It will not be as economically feasible as with nickel-metal because the materials we'll end up with are not as valuable," said Toyota spokesman John Hanson.
Lithium batteries just don't use as much of the rare and valuable metals found in some other types of batteries.
Regardless, Toyota intends to have a plan in place for recycling the lithium-ion batteries used in the Toyota Prius plug-in before the car goes on sale in about a year, Hanson said, but that hasn't been finalized yet.
Part of the issue is that, with lithium-powered cars being so new, any market for recycled materials is in its infancy. The market for those materials could grow, some say, as more recyclable batteries become available and as more electric cars that could use the recycled materials in their batteries are introduced.
Battery makers who might buy all that recycled material will have to learn to trust that the recycled stuff is as good as the new, said Linda Gaines, a researcher at Argonne National Laboratories who has studied issues related to lithium ion battery recycling.
No matter how, the industry will probably find some way to recycle these batteries. Recycling is important for carmakers because failing to recycle will be a blot on the their green image.
"Obviously the people who buy our products want to be seen as environmentally sensitive," said JB Straubel, chief technology officer for Tesla Motors, a company that's already been recycling batteries from its test cars.
iReport: Have you put over 100,000 miles on your hybrid vehicle? Upload a picture of you and your car, plus a snapshot of your odometer. How's your fuel economy? Is it as good today as when you bought it? Also, share your experiences maintaining your hybrid vehicle. Your story could be part of a CNNMoney.com article.