Federal spending clash looms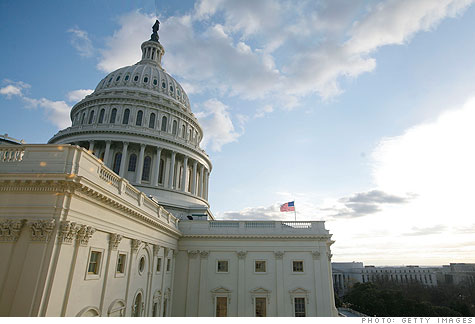 NEW YORK (CNNMoney.com) -- Once again, Congress is facing intense deadline pressure to pass a spending bill to fund the federal government.
A temporary spending measure was enacted earlier this month. The problem is that it will expire on Saturday at midnight, so Congress must act before then.
Last week, the House did its part. It approved a $1.1 trillion "continuing resolution" to fund the government through the end of the fiscal year next September.
The House vote was 212 to 206. Now it's the Senate's turn.
The failure to extend funding could lead to furloughs of federal employees and a sharp reduction in governmental activities.
The good news, if you can call it that, is that Congress has been at this point many times before and has usually passed at least another continuing resolution.
But things might not go so smoothly this time.
On Tuesday, the Senate dropped the House bill in favor of a more complicated extension.
Instead of introducing a continuing resolution, which would lock in government funding at current levels, Senate Appropriations Committee Chairman Daniel Inouye, a Hawaii Democrat, filed a catch-all "omnibus" bill.
An omnibus bill allows lawmakers greater flexibility to adjust the budgets of individual government agencies, while a continuing resolution puts the government on autopilot.
"While I appreciate the work that the House has done in producing a full year continuing resolution, I do not believe that putting the government on autopilot for a full year is in the best interest of the American people," Inouye said in a statement.
The nearly 2,000-page omnibus budget bill is also loaded with about $8 billion in earmarks from Republicans and Democrats alike and is likely to set up a political showdown. Conservative Republicans have made earmarks -- special funding measures inserted by lawmakers -- a hot-button issue on Capitol Hill.
Republican Senate Minority Leader Mitch McConnell, who months ago inserted millions of dollars in earmarks for his home state of Kentucky, said he opposes the bill.
"I am actively working to defeat it, I think there are many members of the Senate who have provisions in it for their states who are also actively working to defeat it. This bill should not go forward," McConnell said.
Earmarks are often cited as a symbol of wasteful spending, even as many lawmakers continue to pursue them. McConnell pledged after the midterm elections to stop requesting earmarks, as did many of his Republican colleagues.
The earmarks and an already jam-packed Senate schedule make the omnibus a risky maneuver as the deadline approaches. In the Senate, Democrats will need to swing a few Republican votes to their side to keep the government's lights on.
Asked if Democrats will have the votes to pass the omnibus, one committee staffer told CNNMoney he is "cautiously optimistic" the bill will pass.
-CNN's Dana Bash, Ted Barrett and Lisa Desjardins contributed to this report.