The 20 CEOs coming to Washington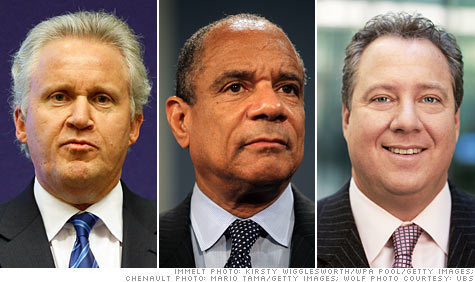 NEW YORK (CNNMoney.com) -- Twenty CEOs will meet with President Obama on Wednesday for a discussion that will cover trade, clean energy, the deficit and tax code reform.
The meeting is a highly visible example of the commitment Obama made to improve relations with the business community.
The CEOs come from a wide range of industries, and the list includes a few surprises.
After hosting bank executives last year at the White House, Robert Wolf of UBS (UBS) is the only bank executive to make the cut.
Tech companies are well represented, with Eric Schmidt of Google (GOOG, Fortune 500), John Chambers of Cisco Systems (CSCO, Fortune 500), Paul Otellini of Intel (INTC, Fortune 500) and Motorola's (MOT, Fortune 500) Greg Brown all slated to attend.
Also attending: John Doerr of Kleiner Perkins Caufield & Byers, one of the leading venture capitalists in Silicon Valley.
In a nod that reflects Obama's sustainable energy goals, Lew Hay of clean energy company NextEra Energy (NEE) was invited.
Some of the blue-chip firms are represented by Kenneth Chenault of American Express (AXP, Fortune 500), Jeffrey Immelt of General Electric (GE, Fortune 500), Ellen Kullman of DuPont (DD, Fortune 500) and James McNerney of Boeing (BA, Fortune 500).
The meeting comes as the relationship between the business community and the White House appears to be improving.
Rounding out the list are:
Dave Cote, Honeywell International (HON, Fortune 500)
Scott Davis, UPS (UPS, Fortune 500)
Mark Gallogly, Centerbridge Partners
John Lechleiter, Eli Lilly (LLY, Fortune 500)
Andrew Liveris, Dow Chemical (DOW, Fortune 500)
Indra Nooyi, PepsiCo (PEP, Fortune 500)
Penny Pritzker, Pritzker Realty Group
Brian Roberts, Comcast (CMCSA, Fortune 500)
Jim Rogers, Duke Energy (DUK, Fortune 500)