Commodities take a breather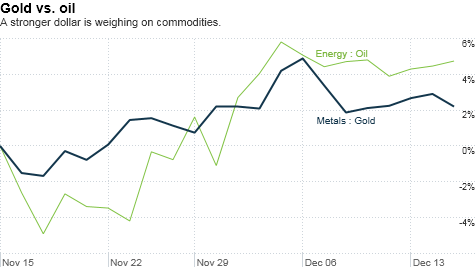 NEW YORK (CNNMoney.com) -- Commodity prices continue to ease this week, as the dollar gains some strength and investors focused on signs of economic improvement.
A stronger dollar can weigh on commodities like gold, silver and oil because they're priced in the U.S. currency. Worries about inflation had been pressuring the greenback and sending commodities into rally mode.
Gold rallied to a new record high above $1,400 an ounce shortly before this week's Federal Reserve meeting.
"What may be weighing on gold somewhat is the dollar has recovered slightly from yesterday, and you've had some fairly positive economic data," said Carlos Sanchez, director of risk management at CPM Group.
Following the Fed's decision to keep interest rates near 0%, gold eased and ended the day at $1,388 an ounce. Silver prices, which have been drawing more attention than gold lately, also headed lower, sliding nearly 2% to $29.25 an ounce.
"Silver had an incredible run this week," said Phil Flynne, PFG Best senior market analyst. "It's put in this incredible run mainly because people are looking for quantity instead of quality."
The fact that the Fed stayed the course lifted some inflationary fears also helped ease some of the 'fear factor.'
"As world economic growth expands...we're going to get away from the fear commodities -- gold, silver," said James Cordier, president of Liberty Trading Group. "That's going to take a real back seat to the commodities that enjoy strengthening economies." And those include more consumer-based commodities like oil.
Oil prices were little changed Wednesday, hovering around $88 a barrel.
Flynn expects oil prices to hold steady. "The market failed to follow through when it got to $90 a barrel. If you look at the entire year, every time the oil market looked like it was going to break out and run, it failed to follow through."
As for soft commodities -- "they've been on fire," Flynn said. "Not only have they been stimulated by the fed policy and the weak dollar but they also have some supply issues.
Sugar prices gained about 1% Wednesday. "You have concerns of supply constraints, given strong demand from China... Brazil's supply has been constrained by heavy rains," Sanchez said.
Cotton prices were down 1.5%. Floods in Pakistan and China's growing demand had been sending cotton prices to some lofty levels in recent months.
And even orange juice isn't immune. Orange juice futures have been spiking amid worries about a deep freeze in Florida. According to Sanchez, reduced supplies from Brazil, offset an increase in supply from Florida, but concerns over Florida's crop is sending prices higher earlier than normal.
"You typically see prices head higher in January, where freezing conditions can affect the crop," he said.