Obama CEOs: $8.2 million in political muscle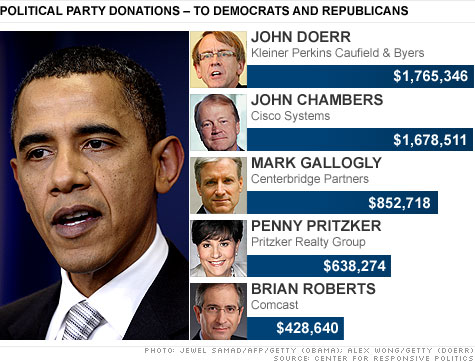 NEW YORK (CNNMoney.com) -- The 20 CEOs meeting with President Obama on Wednesday have made $8.2 million in political contributions over the past 20 years, according to an analysis of public records conducted for CNNMoney.
While the contribution pattern of each CEO varies, Democrats captured 70% of the group's total dollars, and ten CEOs made personal contributions to Obama's 2008 campaign.
The analysis was conducted by the nonpartisan Center for Responsive Politics, which tracks the influence of money in politics.
"This is a pretty friendly crowd, as far as campaign contributions are concerned," said Dave Levinthal, a spokesman for the center. "About half these folks have previously given Obama money, and for those who have not, almost all of them have a history of donating political cash to Democrats."
While the donations are weighted toward Democrats, there are some notable exceptions among the attendees.
John Chambers of Cisco Systems (CSCO, Fortune 500) has given more than $1.2 million to Republicans, making him the group's top donor to GOP causes. But he also donated about $400,000 to Democrats over the same time period.
That might seem like a lot of cash, but Chambers is only the second most active CEO.
John Doerr of Kleiner Perkins Caufield & Byers, one of the leading venture capitalists in Silicon Valley, donated more than $1.7 million over 20 years, 96% of which went to Democrats.
And Chambers and Doerr are not the only big spenders.
Fourteen of the 20 CEOs have given in excess of $100,000, and not all to presidential candidates. Indeed, the CEOs have spread their cash to a total of 719 different political candidates.
Only two of the CEOs gave on a strictly partisan basis. Indra Nooyi of PepsiCo (PEP, Fortune 500) has donated a total of $27,000 to Democrats, and ignored Republicans, while Dave Cote of Honeywell International (HON, Fortune 500) gave $9,600 to Republicans and nothing to Democrats. Another CEO, Scott Davis of UPS (UPS, Fortune 500), did not appear in records as having donated at all.
While the total cashflow favors Democrats, 10 of the CEOs gave a majority of their contributions to Republicans, while nine preferred Democrats.
The executives who favored Republicans are Cote (100%), James McNerney of Boeing (BA, Fortune 500) (88%), Paul Otellini of Intel (INTC, Fortune 500) (81%), Lew Hay of NextEra Energy (NEE) (77%), Chambers (75%), Jeffrey Immelt of General Electric (GE, Fortune 500) (69%), Greg Brown of Motorola (MOT, Fortune 500) (68%), Andrew Liveris of Dow Chemical (DOW, Fortune 500) (55%), Jim Rogers of Duke Energy (DUK, Fortune 500) (51%) and John Lechleiter of Eli Lilly (LLY, Fortune 500) (51%).
Democrats meanwhile captured a majority of contributions from Nooyi (100%), Robert Wolf of UBS (UBS) (98%), Mark Gallogly of Centerbridge Partners (98%), Penny Pritzker of Pritzker Realty Group (96%), Doerr (96%), Kenneth Chenault of American Express (AXP, Fortune 500) (96%), Eric Schmidt of Google (88%), Brian Roberts of Comcast (CMCSA, Fortune 500) (76%) and Ellen Kullman of DuPont (DD, Fortune 500) (61%).
The Washington money game: Donations to federal campaigns are governed by a maze of limits and caps. For instance, a person may contribute no more than $2,400 to an individual candidate per election under current law. But they may give that much to multiple candidates -- and can max out for a primary race and again for the general election.
Wealthy political bankrollers often try to maximize their political clout by making political contributions through immediate family members, which is why this analysis includes spouses.
The $8.2 million given by the CEOs at the Obama meeting is not a lot of money, compared to the billions that flow into federal politics every election cycle.
"But $8 million-plus will, for the few people who spent it, buy a considerable amount of access to very powerful politicians," said Levinthal of the Center for Responsive Politics. "That's a lot of tickets to fund-raising dinners and exclusive events. That's a lot of face time. A lot of handshakes. A lot of thank you notes."
The White House meeting is Obama's latest effort to improve relations with the business community after a rocky start. It comes on the heels of a landmark free trade agreement and tax cut extension compromise favored by business leaders.
The summit comes a year after Obama chastised "fat cat" bankers who took large bonuses during the financial crisis, and six months after he lashed out at BP during the recent oil spill in the Gulf of Mexico.
The White House did not immediately respond to a request for comment, but has said that Wednesday's discussion will cover trade, clean energy, the deficit and tax code reform.