Car of the Year finalists: Volt, Leaf, Sonata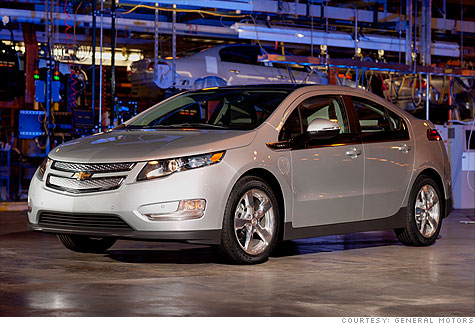 NEW YORK (CNNMoney.com) -- The Chevrolet Volt, Nissan Leaf and Hyundai Sonata are the three finalists for the North American Car of the Year Award. Given at the Detroit Auto Show in January each year, it is considered among the most prestigious prizes in the industry.
The finalists for North American Truck of the Year award, to be given at the same time, are the Dodge Durango, Jeep Grand Cherokee and Ford Explorer. Both the Durango and Grand Cherokee are products of the Chrysler Group. The two SUVs share much of their engineering and are built at the same plant.
Chrysler is fighting to come back after years of declining sales with a 2011 line-up that features many redesigned and heavily refurbished vehicles. The Grand Cherokee and Durango are the first all-new vehicles to be introduced since the automaker emerged from bankruptcy.
The Volt and the Leaf are the first electrically driven cars to hit the mass market. The Volt has already won several awards in the United States, including Motor Trend Car of the Year. The Leaf was recently awarded European Car of the Year.
The Hyundai is the only purely gasoline-driven auto finalist. It has been a favorite among critics who have praised its ride and handling characteristics as well as the quality of its interior.
If Hyundai wins the award it would be second win for the South Korean automaker in three years. The Hyundai Genesis won the award in 2009.
While all three vehicles vying for Truck of the Year are familiar SUV names, both the Durango and Explorer show the big changes happening in that class of vehicles.
In recent years, sales of mid-sized truck-based SUVs have fallen precipitously as gas prices have risen and customers have turned to smoother-riding car-based crossover SUVs. For the 2011 model year, both the Durango and Explorer have morphed into car-based vehicles.
The award is voted on annually by a jury of up to 50 automotive journalists from the United States and Canada.
Last year, Ford won both awards with the Fusion Hybrid and the Transit Connect commercial van.
This year's winners will be announced on Jan. 10, at 8:00 a.m. eastern time in Detroit.