Dreaming of a trashy Christmas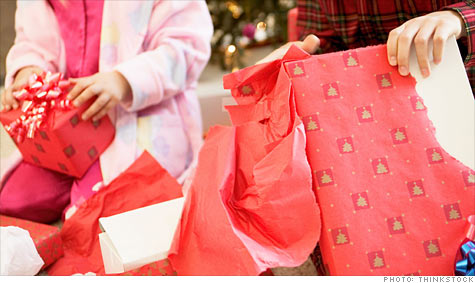 NEW YORK (CNNMoney.com) -- 'Tis the season to be jolly, and unfortunately, to toss also out a lot of trash.
In the period between Thanksgiving and New Year's, American households generate 25% more waste. That's about 1 million extra tons of trash each year, according to the Environmental Protection Agency.
That includes everything from food to wrapping paper, holiday decorations, packaging, and old cellphones and laptops that are unceremoniously dumped as soon as the latest models emerge from under the Christmas tree.
"The holiday season is especially important for us because all of the festivities, gift giving and traveling does create a lot more waste than at other times of the year," said Jennifer Berry, spokeswoman with Scottsdale, Arizona-based Earth911.
"People get so caught up in the fun that they forget about the environmental impact of these activities," said Berry.
Earth911 provides local resources about recycling centers as well as tips on how to recycle and pollution prevention. It has a large network of over 127,000 programs nationwide.
Linda Gabor, vice president of marketing for Call2Recycle, which operates a free rechargeable battery and cell phone collection program in North America says that during this season of giving, people should also give some thought to the waste they create.
"After all the gifts are opened on Christmas, this is one last gift that people can give each other that doesn't require any ribbons or bows," said Gabor. "Cut down on trash, recycle and and properly dispose your garbage."
Despite the annual surge in waste during the holidays, Gabor and Berry are encouraged by the recent trends.
In 2008, Americans generated about 250 million tons of trash and recycled and composted 83 million tons of this material, at about a 33.2% percent recycling rate, according to the latest available data from the EPA.
The agency said the nation's recycling rate has remained fairly steady in the past few years.
Also, Gabor said her company's collection of rechargeable batteries and cell phones through programs it runs with retailers such as RadioShack and Best Buy (BBY, Fortune 500) is up double digits in 2010 over last year.
"This shows that when people are shopping for toys or gadgets, they are taking that extra step and bringing in their old batteries and cellphones for recycling," Gabor said.
Said Berry, "Recycling is really the most accessible way for consumers to participate in sustainability."
Here are a few simple ways to reduce your holiday waste:
Christmas trees: Many people think they are helping the environment by not buying a real Christmas tree. Not true, said Berry. "There are 500,000 acres of farmland in North America dedicated to Christmas trees," she said. "When you buy a real tree, you are buying it from one of these farms and not from a national forest." Also, for every tree that's cut down, the farmer will plant three to four new trees. "So you are not contributing to deforestation," she said.

After Christmas, it's important to properly dispose of your tree. Tree recycling programs vary from state to state. The mulch from the recycled tree has many uses, Berry said. You can take it back to your house and use it in your backyard. It's also used in community pathways in parks and in playgrounds. Additionally, Christmas trees are being used on beachfronts as part of erosion protection measures.
At parties: Lots of leftover food winds up in the trash. Instead, stock up on doggy bags and send leftovers home with the guests. Also, Berry suggests holiday party hosts set up a recycling bin right next to the trash bin to make it convenient for people to separate the garbage from the recycling.
When gift wrapping: Most of us probably don't realize that the cute shiny wrapping paper is generally not recyclable. It contains dyes and other difficult-to-process additives. Eco-friendly wrapping paper is a better option although it is more expensive that regular wrapping paper, said Berry. Other common-sense tips -- bunch gifts together and use one sheet of wrapping paper. "Old maps or book pages are other creative solutions that don't look tacky," she said.
When traveling: Many environmentally-conscious holiday travelers already participate in programs that let them use their air miles to offset their carbon footprint. But for those who don't participate, Berry has other tips. "We consume a lot of products en route, such as bottled water, soda, chips and we simply throw these away in the trash at the airport," she said. Some carriers have in-flight recycling programs. But if they don't, simply carry your trash with you and put it in a recycling bin at the airport, if there is one, or once you get home.
Holiday lights: Always recycle your old Christmas lights. Berry said consumers can find several resources on how to do that through her company or by simply doing a little research.