GM recalling 100,000 SUVs for seatbelts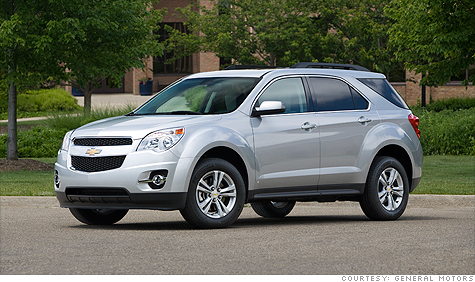 NEW YORK (CNNMoney.com) -- General Motors is recalling almost 100,000 of its popular new 2011 model year crossover SUVs because the front seatbelts could come loose in a crash.
The models involved in the recall are the Chevrolet Equinox, GMC Terrain and Cadillac SRX compact crossover SUVs. A total of 97,843 vehicles are involved in the recall.
The problem was discovered during seatbelt development tests in September. The two incidents that occurred during the tests were on the driver's seatbelt, but the same seatbelt buckle anchor that failed in those tests is also used on the passenger side seatbelt.
While the seatbelts won't fail on a first impact, GM spokesman Alan Adler said, they could fail during a secondary impact. Car crashes frequently involve more than one impact.
GM will begin mailing letters to owners of the vehicles in mid-January. Owners will be asked to bring the vehicles to a GM dealer to have the seatbelt buckles modified.