1 in 7 Americans rely on food stamps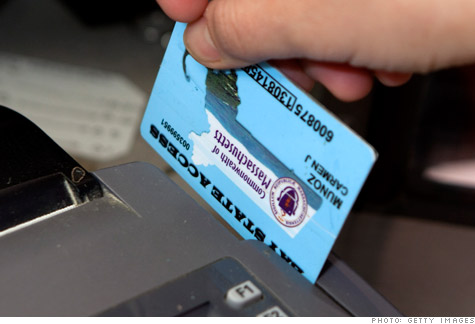 NEW YORK (CNNMoney.com) -- The use of food stamps has increased dramatically in the U.S., as the federal government ramps up basic assistance to meet the demands of an increasingly desperate population.
The number of food stamp recipients increased 16% over last year. This means that 14% of the population is now living on food stamps. That's about 43 million people, or about one out of every seven Americans.
In some states, like Tennessee, Mississippi, New Mexico and Oregon, one in five people are receiving food stamps. Washington, D.C. leads the nation, with 21.5% of the population on food stamps.
"The high unemployment rate caused the high participation rate," said Dottie Rosenbaum from the Center for Budget and Policy Priorities, a think tank.
But it's not just the nation's stubbornly high unemployment rate of 9.8% that's driving the increase in food stamp use. Some states are expanding their definitions of poverty to include more people.
At the same time, the 2009 American Recovery and Reinvestment Act boosted annual funding to the nationwide food stamp program, known as the Supplemental Nutrition Assistance Program, by $10 billion.
The average recipient receives $133 in food stamps per month, according to the U.S. Department of Agriculture. That amount varies from state to state; in Hawaii the average is $216, while it's $116 in Wisconsin.
But the Recovery Act funding increased the maximum food stamp benefit by 13.6%, which translates to about $20-24 dollars per person per month.
The U.S. government considers food stamps to be effective stimulus for the economy, because the recipients usually spend them right away.
Idaho saw the biggest increase in its food stamp program, with a spike of 39% compared to last year, followed by Nevada, at 29%, and New Jersey, at 27%.
New Jersey's food stamp program expanded at least in part because the state raised its poverty level in April, according to Nicole Brossoie of the state Department of Human Services. That let the state add 35,000 people to its food stamp rolls, an increase of 5%.
Also, Brossoie said that program has been made more accessible to poverty-stricken residents.
"Through newsletters, posters, counseling and other outreach, the stigma associated with food stamps has diminished and more individuals and families are seeking assistance," she said.
The government is also beefing up unemployment benefits. The unemployed will get a 13-month extension to file for additional unemployment benefits, which can last as long as 99 weeks in states hit hardest by job loss.
As the job market continues to dog the economy, the increase in food stamp funding is set to remain in place for nearly three years.
Dottie Rosenbaum said the hike in food stamp benefits is set to expire Nov. 1, 2013. Typically, food stamp funding increases every year to match inflation. But if Congress does not extend the stimulus funding beyond the 2013 cutoff, then food stamp benefits will revert to their original levels, but still be adjusted for inflation.
She said the budget office is forecasting a potential drop of $49 a month in food stamp benefits for a family of three, or $59 for a family of four, if the stimulus program is not continued.
President Obama, while signing a child nutrition bill on Dec. 13, said he was working with members of Congress to extend the food stamp funding.