Surprise! AIG is a hot stock again. Seriously.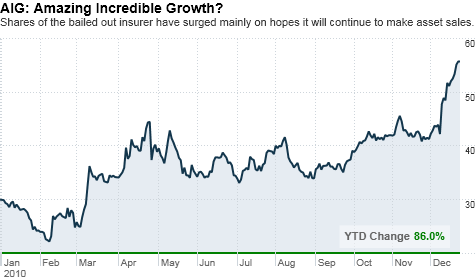 NEW YORK (CNNMoney.com) -- AIG is one of the best performing stocks in the S&P 500 this year. That's not a misprint.
Shares of the insurer, which was at death's door in September 2008 before the government bailed it out to the tune of $182 billion, are up a stunning 86% this year.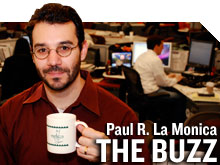 What's most amazing about this is that the company's fundamentals are still shaky. AIG (AIG, Fortune 500) reported a net loss of $2.4 billion in the third quarter. For the first nine months of the year, AIG has lost $3.3 billion. Much of the losses are due to one-time charges.
The stock's also enjoyed a solid rally despite the fact that many short sellers continue to bet against it. As of November 30, 14.5% of the available shares outstanding were being held short.
But short sellers have been wrong on AIG all year. It seems that the story with the company right now is not about premiums, underwriting standards and other insurance minutiae. It's about AIG slimming down with asset sales so it can finally get out from under the government's thumb.
In just the past few months, AIG sold life insurance division Alico to MetLife (MET, Fortune 500) for $16 billion, raised another $20.5 billion through the initial public offering of its AIA life insurer on Hong Kong's stock market and also sold Japanese units AIG Star and AIG Edison to Prudential Financial (PRU, Fortune 500) for $4.8 billion.
Several savvy value managers have made handsome profits (on paper for now at least) by scooping up AIG earlier this year. Fairholme Capital Management, the Miami-based investment firm that is AIG's second-largest shareholder after taxpayers, has been boosting its stake all year.
Fairholme founder Bruce Berkowitz told CNNMoney.com sister publication Fortune earlier this month that "it's becoming clear now that the government is going to be paid with interest over time, and that some patience will also pay, both for taxpayers and for stockholders."
Still, what can AIG do for an encore? You can argue that much of the good news about asset sales is already factored into the stock price and that if the stock is going to keep going up, it needs to show stronger growth in its core businesses.
There's also the fact that eventual sales of AIG stock by the government (while great news for taxpayers) could suppress the company's stock price as more shares hit the market. Just look at Citigroup (C, Fortune 500) for example, which the government has finally exited after giving it a $45 billion lifeline.
When the government first announced in late April that it was going to start selling off pieces of its stake in the bank, shares were trading at $4.86. They closed on Thursday at $4.71.
Frank Ingarra Jr., portfolio manager with Hennessy Funds in Stamford, Conn., concedes that AIG may not come close to repeating its stellar performance of 2010 next year.
Ingarra said his firm took a position in AIG through its Hennessy Cornerstone Growth II Fund (HENLX) earlier this year because the stock looked very cheap. But after nearly doubling in 2010, Ingarra wondered if investors will look for better values in the still-beaten-down financial sector next year.
"AIG has been a very good performer for us. And as they're getting out of government sponsorship, the company has shown it does have some valuable brands that it can sell," he said. "But will other stocks take AIG's place? There may be better performers next year for people looking for bargains."
Another money manager who does not have a position in AIG said it's probably not a good idea to short the stock because it has continued to perform so well.
"I've dubbed AIG the devil stock. It's caught so many people off guard," said Joe Donohue, a money manager in Red Bank, N.J. and author of the UpsideTrader blog.
But anyone that wants to invest in AIG for the long-term has to ask themselves if they really know what they are buying.
"AIG is selling everything. What's going to be left?" Donohue asked. "This stock is only for aggressive investors. It's not something I'd want to buy at this lofty level."
Happy Holidays! The Buzz will be back on Monday, January 3. 2011. So I just want to wish all my readers a safe, happy and prosperous new year!
-- The opinions expressed in this commentary are solely those of Paul R. La Monica. Other than Time Warner, the parent of CNNMoney.com, and Abbott Laboratories, La Monica does not own positions in any individual stocks.