Cozy Wall Street Bull sends warmest wishes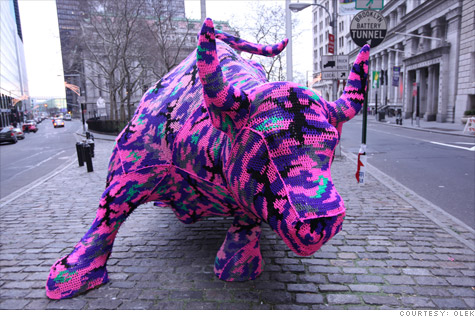 NEW YORK (CNNMoney.com) -- As many Americans were spending Christmas night with their families, Olek, a New York based artist was near Wall Street, freezing her fingers to the bone while outfitting the famous "Charging Bull" into a giant knitted cozy.
Why did she feel compelled to crochet a sweater for the brass Bull? Partly, it was because of the economy and partly because she was homesick.
"I wanted to make it for all those people who couldn't make it to their families and for those people who don't have coats and don't have any money."
Olek is originally from Poland, but when she couldn't make it home to see her family, she thought of all the others who might be spending this holiday far from their loved ones.
The crocheted Charging Bull is her Christmas gift to NYC, she says, and a tribute to the sculptor of the bull, Arturo Di Modica, who placed the bull on Wall Street just before Christmas of 1989. Di Modica declared the sculpture a symbol of the "strength and power of the American people" following the stock market crash of 1987.
Now located in Bowling Green park in Lower Manhattan, "Charging Bull" is a 7,100 pound bronze statue standing about eleven feet tall and 16 feet long.
But like much "guerrilla art," Olek's work was not on display for long. She says the caretaker of the park tore it apart early in the morning.
Still, Olek remains optimistic about the future. "I really hope that I can do it again. This crocheted cover represents my best wishes to all of us. It will be a great, prosperous year with many wonderful surprises!"