Stocks end the day mixed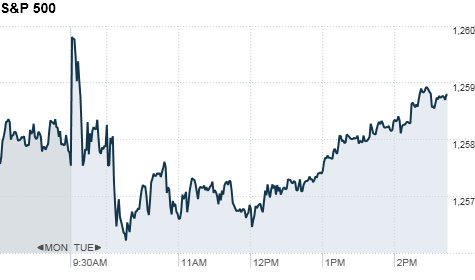 NEW YORK (CNNMoney.com) -- U.S. stocks ended the day mixed Tuesday as investors mulled a disappointing report on consumer confidence and ongoing weakness in the housing market.
The Dow Jones industrial average (INDU) ended the day up 20 points, or 0.18%, with about two-thirds of the blue chip index's 30 components advancing. Chevron (CVX, Fortune 500) and Hewlett Packard (HPQ, Fortune 500) posted the biggest gains, while American Express (AXP, Fortune 500), Home Depot (HD, Fortune 500) and Caterpillar (CAT, Fortune 500) led the declines.
The S&P 500 (SPX) rose nearly one point, while the tech-heavy Nasdaq (COMP) drifted down 4 points, or 0.16%.
Investors largely shrugged off the housing report and a report showing that consumers lost confidence in December.
"The housing market is still stuck in the basement, and the drop in consumer sentiment is a disaster as well," said Joseph Saluzzi, co-head of equity trading at Themis Trading. "But the stock market doesn't care."
Such negative economic news typically drives stocks lower, and a flat market is considered positive in light of the news, he added.
"It was another day of very light volume in the market ...stocks eked out a small gain for the day overall with strength in the energy and basic materials sectors," said Timothy Ghriskey, CIO Solaris Asset Management
Historically, stocks advance during the final week of the year, a phenomenon known as a Santa Claus rally. But stocks have been rallying since late August, when Fed chairman Ben Bernanke said the central bank stood ready to take 'unconventional measures' to prop up the economy.
"Santa Claus showed up early this year as Ben Bernanke in Jackson Hole, so we've had a four-month long Santa Claus rally already," he said. "Markets will likely trend flat for the rest of the week."
Economy: The Case-Shiller 20-City index of home prices in major metropolitan areas showed a continuing housing slump. Home prices dropped 1.3% in October from the prior month, and fell 0.8% year over year. Economists were expecting prices to edge up 0.1% from a year earlier.
Consumer confidence took an unexpected step backward in December, with Americans more concerned about the overall economy and the jobs forecast.
The Conference Board said its reading on consumer confidence slipped to 52.5 in December from 54.3 the month before. Economists were expecting the index to have risen to 56.1.
Late Monday, a report from MasterCard Advisors' SpendingPulse data service showed a 5.5% increase in retail sales in the period from Nov. 5 to Dec. 24, as consumer spending continued to make a comeback. The report is based on charges rung up on MasterCard credit cards as well as a survey of sales made by cash or check.
The weekend's blizzard could cut into holiday sales, with analysts at NPD Group saying retailers could lose about 0.5% of holiday sales due solely to the storm.
Companies: Electric car maker Tesla Motors (TSLA) rose 3% Tuesday, a day after its stock tumbled 15%. Monday was the first day that large investors in the company's June IPO could sell shares, and they took advantage of a 70% run-up from the initial pricing.
Shares of Apple (AAPL, Fortune 500), which have climbed more than 50% this year to new all-time highs above $325 per share, inched up slightly. A new lawsuit seeking class-action status accuses the iPhone and iPad maker of enabling advertisers to track how users interact with applications.
The suit, which also names Pandora, The Weather Channel, Dictionary.com and Backflip as defendants, was filed last week in a district court in California.
World markets: European stocks ended on either side of the breakeven line. The DAX in Germany edged up, and France's CAC 40 slipped 0.1%. London remained closed for a holiday, reopening Wednesday.
Asian markets ended lower. The Shanghai Composite lost 1.7%, the Hang Seng in Hong Kong fell 0.9% and Japan's Nikkei slipped 0.6%.
Currencies and commodities: The dollar turned higher against the euro and the British pound, but lost ground versus the Japanese yen.
Oil for February delivery rose 49 cents to settle at $91.49 per barrel.
Gold futures for February delivery rose $22.70 to close at $1,405.60 an ounce.
Bonds: The price on the benchmark 10-year U.S. Treasury fell, pushing the yield up to 3.48% from 3.35% late Tuesday.