Treasuries surge after strong auction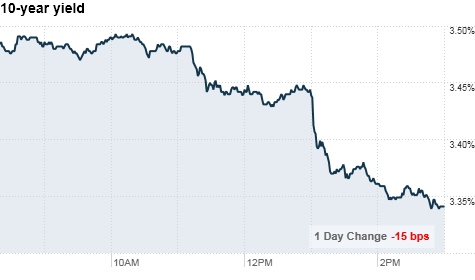 NEW YORK (CNNMoney.com) -- U.S. Treasury prices climbed Wednesday after a government auction of 7-year notes drew strong demand.
The $29 billion auction drew nearly three times that amount in bids, making for a strong sale a day after a separate auction of 5-year notes drew a weak response from investors.
Wednesday's auction results sent Treasury prices surging, and the yield on the benchmark 10-year note slipped to 3.56% from 3.48% late Tuesday. Prices and yields move in opposite directions.
Meanwhile, the yield on the 7-year note fell to 2.72%. The year 30-year decreased to 4.43%; the yield on the 2-year note fell to 0.64%; and the yield on the 5-year note fell to 2.04%.
The bond market has teetered all week. On Monday, investors sent Treasury prices higher following a successful $35 billion auction of two-year notes. But U.S. debt prices tumbled Tuesday after a $35 billion five-year note auction attracted the lowest demand in six months.
Investors typically sell off Treasuries to cheapen them in anticipation of an auction. But the price on the 5-year notes were not at a low enough premium to attract sufficient interest, said Jim Vogel, head of agency debt research at FTN Financial.