Dow posts 2-year high in quiet trading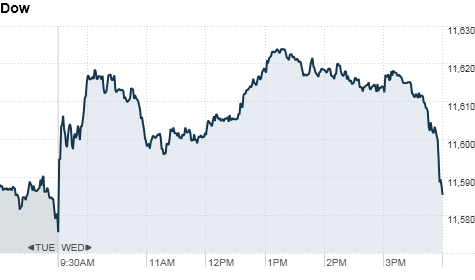 NEW YORK (CNNMoney.com) -- Stocks crept to yet another two-year record in quiet trading Wednesday, as traders look to end the year on a high note.
At the closing bell, the Dow Jones industrial average (INDU) was up 10 points, or 0.1%, at 11,585 -- it's highest point in two years. The S&P 500 (SPX) rose 1 point, or 0.1%; and the Nasdaq (COMP) ticked up 4 points, or 0.2%.
With no economic reports on the calendar, stocks eked out the slight gains as investors are eager to end the year on the upside.
"The market's going to drift higher for the remainder of the year, as we come into the beginning of January," said Rich Ilczyszyn, market strategist with futures broker Lind-Waldock.
Meanwhile, Ilczyszyn expects trading volume to remain muted for the rest of the week as the Northeast continues to recover from a severe snowstorm and many traders are off for the holidays.
Stocks have climbed 6% in December, and are on track to post double-digit percentage gains for the year. For 2010 overall, the Dow is up about 11%, the S&P 500 is up nearly 13% and the Nasdaq is up nearly 18%.
Companies: Energy giants including Chevron (CVX, Fortune 500), ConocoPhillips (COP, Fortune 500) and Exxon Mobil (XOM, Fortune 500), all posted fresh 52-week highs in mid-session trading Wednesday, but pared back those gains in late afternoon trading.
Shares of Sears Holdings (SHLD, Fortune 500) rose 6.3% Wednesday -- a day after the company announced it has launched its own online movie download service, Alphaline Entertainment. Sears plans to sell the service embedded in portable media players, Blu-ray DVD players, mobile phones and high-definition televisions.
BJ's Wholesale Club (BJ, Fortune 500) stock rose 7.1%, after the New York Post reported that Los Angeles-based firm Leonard Green & Partners LP may make a hostile bid for the company.
A district judge ruled that the German-based business software maker SAP (SAP) will have to pay rival Oracle millions of dollars in interest on the $1.3 billion copyright infringement verdict. SAP shares rose 0.6% and Oracle (ORCL, Fortune 500) shares fell 0.2%.
Bank of America's (BAC, Fortune 500) stock fell 0.2% in afternoon trading, paring back losses from earlier in the morning. Allstate (ALL, Fortune 500) filed a lawsuit against the bank and its Countrywide Financial unit for more than $700 million in mortgage-backed securities that the insurance giant had purchased. The suit also named former Countrywide CEO Angelo Mozilo, who agreed to pay $67.5 million to settle fraud charges in October.
Economy: There were no major economic reports on Wednesday's agenda.
World markets: European stocks closed mixed. Britain's FTSE 100 fell 0.2%, while the DAX in Germany ticked up 0.2% and France's CAC 40 gained 0.8%.
Asian markets ended higher. The Shanghai Composite rose 0.7%, the Hang Seng in Hong Kong rallied 1.5% and Japan's Nikkei ticked up 0.5%.
Currencies and commodities: The dollar fell against the euro, the British pound and the Japanese yen.
Oil for February delivery slipped 37 cents to settle at $91.12 a barrel, but was still near two-year highs as investors anticipate a boost in energy demand in 2011.
Gold futures for February delivery rose $7.90 to settle at $1,413.50 an ounce.
Bonds: The price on the benchmark 10-year U.S. Treasury rose, pushing the yield down to 3.36% from 3.48% late Tuesday.