Blizzard's cost to airlines may hit $150 million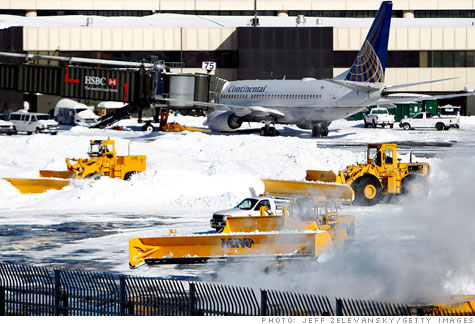 NEW YORK (CNNMoney.com) -- The blizzard that wreaked havoc on the East Coast this week may cost airlines up to $150 million as planes sit idle following the cancellation of thousands of flights.
For the airlines, the costs are adding up in several ways.
There's the added expense of paying crew overtime and sleeping accommodations, de-icing operations, and fuel for planes that either idle on the runway and don't take off or planes that were repositioned for the storm.
In addition to the expense, there is also the loss of revenue.
Selling an airline seat is not like selling a toy or a pair of jeans. If a flight is cancelled, then that flight -- and its revenue -- is lost forever. Passengers may rebook, but they are often filling seats that otherwise could have been sold.
Money will also be lost refunding tickets to travelers who decided to take the bus or train instead.
"It's not good, but it's not devastating," said Michael Boyd, president of the aviation research firm Boyd Group Consulting, who made the $100 million to $150 million estimate.
It's not devastating because that $150 million is spread out among all the airlines, and airlines are big companies that plan for this kind of thing. American Airlines (AMR, Fortune 500) alone brought in nearly $20 billion in 2009.
Hardest hit will be the companies that have major operations in the Northeast - JetBlue (JBLU) with its hubs at New York's Kennedy airport, Washington's Dulles, and Boston's Logan; Continental (UAL) with its Newark hub, and U.S. Airways, which has a big operation in Philadelphia.
And compared to some other incidents, this blizzard looks small. The ash cloud that shut down much of Europe for over a week last year was estimated to cost the industry $1.7 billion, according to the International Air Transport Association.
Also working in the airlines favor: The storm's timing.
It hit after Christmas, so many people were already away and had to get back home -- canceling is not an option.
"The market doesn't seem to care about it," said Hunter Keay, an airline analyst at Stifel Nicolaus, noting that airline stocks did not drop much following the storm. "It is what it is, this is the nature of the beast."