Blizzard is 'budget buster' for cities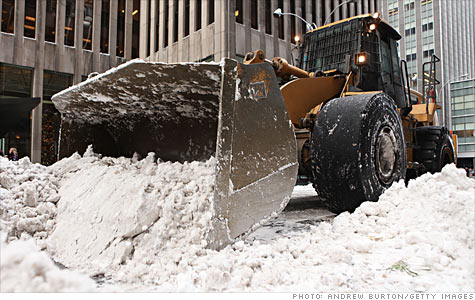 NEW YORK (CNNMoney.com) -- A massive snowstorm was the last thing cash-strapped cities needed to ring out 2010.
"It's a budget buster," said Mark Boughton, mayor of Danbury, Conn., where 18 inches of snow fell on Sunday and Monday. "It's a killer ... on a holiday weekend and a Sunday."
Dealing with the storm could cost Danbury $450,000, more than half the city's snow removal budget for the entire winter, Boughton said. The fact that it fell on a Sunday helped drive up the costs because the crews got double-time.
Cities, counties and states are now totaling the financial damage of the holiday weekend blizzard that blanketed much of the East Coast. Most had to call in their entire public works departments, as well as hire outside contractors.
Many state and local governments can ill-afford to spend more than budgeted on snow removal. Hammered by the financial blizzard known as the Great Recession, they are already cutting back on services and personnel.
Virginia residents saw the after-effects of several major storms last winter. The state Department of Transportation, which maintains most of the highways and roads, had to spend more than $250 million on snow removal, far above the $94 million budgeted, said spokesman Jeff Caldwell.
As a result, the state had to cut back on non-priority maintenance, such as grass cutting and tree trimming. Instead of mowing the entire highway medians six times a year, for instance, workers only did it twice and only cut 10 feet on each side.
This weekend's single storm has left officials hoping for a mild winter.
"If we keep getting storms of this magnitude, we will certainly blow the budget," said Allan Fung, mayor of Cranston, R.I., which will likely spend more than $150,000 to remove 10 to 12 inches of snow.
The city, which has set aside $550,000 for the year, has been struggling in the economic downturn. It has had to slash spending in all departments, especially after having its state aid cut back four times in two years, Fung said.
While municipalities and states have no choice but to clear the streets no matter how much it snows, they are thinking twice about how they allocate coveted resources.
In Ridgefield, Conn., town officials had to discuss whether to hire extra crews to clear the downtown district and train station, which will likely cost up to $13,000. Previously, it would have been a given.
"Now, you hesitate," said Rudy Marconi, first selectman in Ridgefield, which received up to 18 inches of snow. Ultimately, the crews were hired.
Many public officials, including Mike Smalling of Rahway, N.J., are hoping to receive federal money to help pay for the cleanup cost. Rahway was socked with 32 inches of snow, the most in the Garden State.
Smalling, the assistant superintendent of public works, is now calculating the toll of clearing 75 miles of road. Crews there were still working on Tuesday to clear crosswalks and municipal parking lots.
"It will be a significant chunk of the budget," Smalling said. "There was a significant amount of overtime involved."
The East Coast is not the only area being pummeled by early winter weather. The Rockies and Midwest have gotten more snow than usual.
St. Paul, Minn., has already spent $1 million more than budgeted on snow removal. The city has received 40 inches of snow, or 83% of a typical season, said Rich Lallier, director of public works. Normally, it sets aside $2 million to cover four snow emergencies. It has had seven this year and will have to dip into a reserve fund to cover the extra costs.
Fortunately for St. Paul, it operates on a calendar year budget so it shouldn't go any deeper into the hole in 2010.
But guess what the forecast is for New Year's Day -- snow.