Treasuries get a year-end boost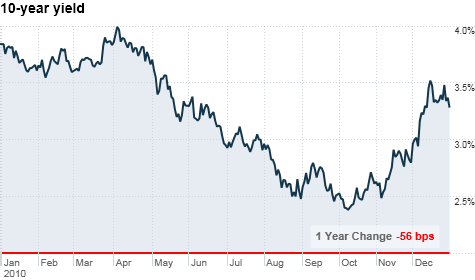 NEW YORK (CNNMoney) -- U.S. treasury prices rose during a shortened trading session Friday, ending a volatile year on a positive note.
The price on the benchmark 10-year note rose slightly, pushing the yield down to 3.30% from 3.37% late Thursday. Bond prices and yields move in opposite directions. The yield on the 30-year bond fell to 4.33%, while the yield on the 2-year note edged down to to 0.60%. The 5-year note's yield slipped to 2.01%.
Trading volume remained light amid the year-end holiday period.
U.S. debt, which is considered a safe haven, was an attractive asset to investors during the earlier part of 2010, as concerns over Europe's sovereign debt issues were at the forefront.
But as those worries faded, so did the appeal for Treasuries. That has sent yields higher, especially as better-than-expected economic news bolstered demand for riskier asset. After hitting a low below 2.4% in early October, the benchmark yield finished the year at 3.3%.
As traders get back in gear for 2011 next week, analysts expect yields will continue rising as the economy recovers, despite the Federal Reserve's attempt to push rates lower.
In November, the Fed announced it will pump $600 billion into the economy by June through purchases of long-term Treasuries. As part of the program, which winds down during the middle of next year, the central bank is expect to scoop up more Treasuries next week.
The Treasury market closed at 2 p.m. ET Friday.