Financial fix: Dreaming of debt-free college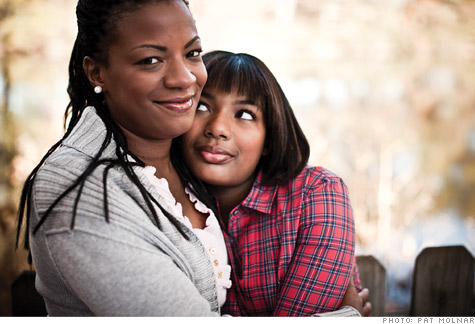 (MONEY Magazine) -- Student debt has overshadowed much of Takiia Anderson's career.
After graduating from law school in 1999, she spent a decade paying off the $106,000 she'd borrowed, all while moving along the East Coast for her jobs with the U.S. Department of Labor and raising her daughter, Tajé, now 13.
Recently settled in the Atlanta area, she purchased a home for $238,000 last March. Anderson is now looking ahead.
Free from onerous debt payments, she estimates she can save $3,200 a month on top of the $16,500 she is putting in her federal retirement plan every year.
Her top priority: Set aside enough money for Tajé's college education so her daughter won't be burdened by debt the way she was.
But Anderson also wants to make sure she's on track to retire once she qualifies for a full pension at age 58.
"I don't want to be in a situation where I have to work," she says.
THE STATS
Age: 39
Occupation: Supervisory investigator
Location: Marietta, Ga.
Income: $123,000
Assets: $115,000 in retirement savings; $12,000 in college funds
Goals: Pay for daughter's college education in full; have the ability to retire at age 58
THE PROBLEM
While it's commendable that Anderson doesn't want her daughter to struggle with debt, Atlanta planner Mary Claire Allvine says she shouldn't jeopardize her own security for Tajé's sake.
"You never want to call your daughter for help when you're in retirement," says Allvine.
With only four years before Tajé heads to school, Anderson will need to employ "brute-force savings" to build up her college funds. She should also teach Tajé money-management skills and ask her to contribute to her own education.
"Part of your financial planning," says Allvine, "is to plan for her financial independence."
THE ADVICE
Rethink school: Covering Tajé's entire education is a bigger stretch than Anderson realizes, says Allvine. Four years at Howard University (Anderson's alma mater and Tajé's dream school) could total $160,000.
Aggressive savings plus earmarking the $6,000 a year that Tajé's father pays in child support for college once she's there will get her only halfway.
So unless Tajé earns one of Howard's competitive merit scholarships, Anderson will face hard choices: Cover some costs out of income and have Tajé apply for loans, or set their sights on a less expensive school.
Anderson agrees that she and Tajé need to get serious about college costs. In fact, after some recent poor grades, she'd told her that "if the grades are not up to par after the first year of college, you're going to have to wing it yourself."
Stay flexible: Anderson has $12,000 in a 529 and an education savings account, but investing outside tax-free plans will make it easier to direct the money to retirement if Tajé qualifies for hefty aid.
With four years to go, a conservative fund such as Vanguard Life-Strategy Income (VASIX), which has 25% of assets in stocks, is best.
Look out for No.1: Whatever else Anderson can save (the goal of $3,200 a month seems too lofty) should go toward retirement. Allvine recommends Vanguard Life-Strategy Moderate Growth Fund (VSMGX), now 65% in stocks.
Start the education: Anderson doesn't give Tajé an allowance on the grounds that her daughter doesn't do chores. Start giving her money to cover her own expenses so that Tajé can learn budgeting.