Stocks: New year, same old risks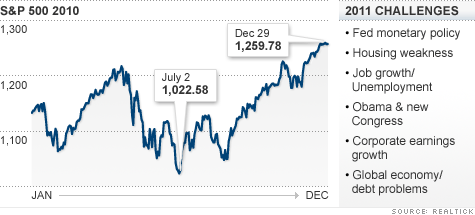 NEW YORK (CNNMoney) -- As we kick off 2011, investors are hoping to put some of the stomach churning market swings behind them. But there are still challenges that could cause some bumps in the ongoing road to recovery.
On the bright side, we're a year-and-a-half out of the recession, and stocks are back to their pre-Lehman Brothers bust levels. All three major indexes finished 2010 with double-digit percentage gains.
For the year overall, the Dow Jones industrial average (INDU) rose 11%, the S&P 500 (SPX) finished up 13%, and the Nasdaq (COMP) rose 17%.
And though the economy is only recovering at half-speed, investors are growing increasingly optimistic about the New Year. In fact, more than half of all investors are bullish on the stock market, according to a survey by the American Association of Individual Investors. That's well above the historical average.
And for the first time in more than eight months, investors are beginning to plow more money into the stock market than they are pulling out. Market participants pumped $335 million into U.S. equity funds in the week ended Dec. 21, according to the Investment Company Institute.
All of that points to a good year for stocks but it won't be a smooth ascent.
"The same concerns that affected the market in 2010 will continue to do so in 2011, so we're going to see the same volatility and lots of starts and stops," said Kate Warne, investment strategist at Edward Jones in St. Louis. Still, she thinks the bull market that started in March 2009 will continue.
2011 headwinds
Fed's monetary policy: The Fed's recent plan to pump another $600 billion into the U.S. economy has investors increasingly worried about inflation. The policy, known as quantitative easing, or QE2, involves buying up short- and long-term Treasuries.
While it's intended to lower interest rates, Treasury yields have actually been rising, with the yield on the 10-year note sitting just above 3%. Spiking yields can lead to rampant inflation, which could further hold up the recovery.
"The Fed is blowing bubbles in a lot of different markets," said Bob Gelfond, CEO of New York-based hedge fund MQS Asset Management. "They won't necessarily pop next year, but there's certainly an increasing risk."
The Fed is expected to complete its bond buying by the middle of the year, but Gelfond said investors will be hoping the central bank won't wait that long to signal its next move.
Housing weakness: The federal government's home buyer tax credits helped refuel the housing market in 2010, but the momentum seems to have lost steam. Home prices are plunging again, and some experts forecast a double-dip for the housing market.
While that doesn't necessarily mean the entire economy will fall back into recession, it doesn't bode well for a robust recovery or investor optimism, said MQS' Gelfond.
Sluggish job market: Despite some improvement, the economy is still suffering from one of the longest job droughts in nation's history.
The monthly unemployment rate has lingered above 9% for 19 straight months, the longest stretch on record since the Labor Department started tracking unemployment in 1949.
It's a slow and painful market for job seekers as firms have started to add to their payrolls, but at a snail's pace.
"The health of a the job market is closely linked to investor confidence, so continued layoffs and slow hiring could bring the market to a screeching halt," said Ryan Detrick, senior technical strategist at Schaeffer's Investment Research.
Obama and the new Congress: The third year of a U.S. presidential term has historically been the best year for stocks during a four year cycle.
Since World War II, the S&P 500 has climbed more than 17% on average during the third year, compared to a 6% increase during the other years, according to Standard and Poor's equity research.
But this isn't a typical third year. In most cycles, the president pushes legislation during the third year that will lift the economy and please voters by the time they reach the voting booths, said S&P chief investment strategist Sam Stovall.
But over the last two years, President Obama has pumped trillions of dollars into the economy, and now may be left with nothing more to offer, Stovall said.
Plus, Congress returns to Washington on Wednesday with Republicans in control of the House. Investors are hoping the new political landscape could give the market some wings, as lawmakers deliver business-friendly policies, such as the extension of Bush-era tax cuts last month.
But there's also the chance of political gridlock, meaning lawmakers won't be able to agree on how to nurse the economy back to health. A ballooning deficit and battles over spending will likely dominate the agenda, which could keep investors on edge.
Corporate earnings growth: After a rough couple of years, Corporate America delivered higher profits in 2010. But much of the lift in companies' bottom lines was thanks to cost-saving measures.
By now, companies have virtually rung themselves dry, so without fundamental improvement in their businesses, corporate profits could disappoint investors in 2011.
"Companies have cut as much as they can, so cost-cutting efforts have come to an end," said Schaeffer's Detrick. "This time, investors will have to see real growth, based on sales and things of that nature."
Global debt woes and economic slowdown: Europe's economy dominated the U.S. markets last year and that's likely to be on the top of investors minds in 2011.
In fact, the European sovereign debt crisis poses the biggest risk for the market in 2011, according to preliminary results from an exclusive CNNMoney survey of investment strategists and money managers. (Look for more on CNNMoney's 2011 market outlook survey later this week.)
Investors first took notice of the broad euro zone fiscal problems in early 2010, as concerns that Greece might default on its debt triggered worries that Portugal, Ireland, Italy and Spain were also at risk.
Investors are still worried that euro zone countries won't be able to repay their debt, said Edward Jones' Warne.
"European political leaders have shown little dexterity in dealing with their debt crisis," Warne said. "They need to do a better job of getting ahead of the curve and handing expectations to ease the worries."
Investors are will also be watching Chinese government as it takes steps to rein in inflation without derailing its red-hot economy.
"There are concerns that China may be overheating, and it's going to be tricky for the government to manage inflation expectations without hurting economic growth," said MQS's Gelfond.
If the Chinese government takes a wrong turn, experts worry that could lead to a so-called hard landing for the economy, which would in turn unravel the global economic recovery.