Diary of an electric commuter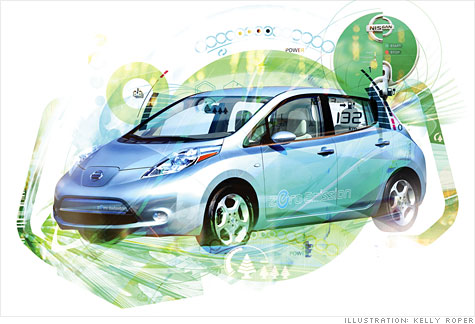 FORTUNE -- When an argon-blue Nissan Leaf, the first production all-electric, zero-emission family car to hit the U.S., whispered into my garage last month, I knew instantaneously that it was a game changer. New relationships come with hopes, fears, and surprises, and ours -- the Leaf's and my union -- went quickly from blind date to a marriage of convenience.
The Leaf is nothing short of a bellwether of the automotive revolution that is headed to a driveway near you. Tighter fuel-efficiency standards, emerging markets' requirements, fluctuating gas prices, and a race in powertrain innovations are all in play. Audi, GM (GM), VW, and others are jockeying for dominance. Audi wants to rule the luxury electric-vehicle (EV) market; its first entrant, a plug-in hybrid, will come to market in 2014. GM's solution, the Volt, has just gone on sale and offers a small onboard gas-powered generator to feed the electric motor and extend its range. VW will roll out its EV in 2013.
So Nissan wins the prize for being first to market with a production pure electric. The company's visionary CEO, Carlos Ghosn, saw the opportunity to dominate the EV category and pushed hard to get the appealingly bug-eyed five-door hatchback built. "With the arrival of the Leaf, it is in our hands, and that of the public, to steer our industry toward its future of sustainable mobility," Ghosn blogged recently. "We believe this innovative car will silence the skeptics and bring a valuable solution to life."
Nissan granted Fortune the first "long term" (eight-day) loan of a Leaf. The Leaf can go about 100 miles between charges, and Nissan maintains that 95% of U.S. commuters drive less than that each day. It was my mission to determine whether that was sufficient to withstand my local reality, L.A.'s worst traffic-choked arteries.
First, a pleasant electrician named Marty arrived to install the Leaf's 240-volt charging dock in my garage. ("It's as simple as putting in power for a hot tub," he explained.) The moon-faced, wall-mounted unit can replenish the Leaf's lithium ion batteries in eight hours.
Then my Leaf arrived with a flourish -- bright, shiny, and eager to please, as were its two Nissan spokesmen. We conducted a detailed walk-around, which uncovered an important fact: There was nothing complicated, obtuse, or unfriendly about the car. The controls on the center console were intuitive. I found the range-map and power-usage screens easy to navigate. A button next to the hood release popped open the little door on the Leaf's nose, revealing the port where the charger's J-plug (shaped like a gas nozzle but smaller) clicks into place. The optional solar panel on the rear wing collects power only for a secondary electrical system that controls the power windows, door locks, and radio. A black sack in the rear hatch area contained the backup charging cord -- a simple three-prong affair with which you can top off the Leaf in a mere 20 hours or less.
In California, as in other parts of the country, electricity rates are on a tiered system; the more you use beyond your baseline amount of power each month, the more you pay (from 12¢ per kilowatt-hour up to 30¢ in my neighborhood). Smart-grid technology, already in use in several areas, will allow the utility companies to see when you use your power, so that peak and off-peak times and rates can be established. When that happens, the savings for electric car owners will increase significantly. The Leaf is prepared for that eventuality: You can program it to automatically charge at a specific time (11 p.m. to 7 a.m., for instance) -- a setting you can make from the car or the Internet. Heating and cooling levels are also remotely programmable. I wanted a warm Leaf every morning at 8, so I set it for 72° -- from my iPhone.
Nissan uses an average cost of 11¢ per kilowatt hour to calculate that a Leaf owner will spend roughly $400 for 15,000 miles of driving in a year. The gasoline equivalent for a Honda (HMC) Civic Si that gets 24 mpg is $1,875 (see table). The Leaf has a higher sticker price, but it also is eligible for tax breaks, rebates, and other incentives. My guess is that it'll take the Leaf 3½ years to make up the difference in fuel savings. Nissan says the first thing you'll have to pay for is a new set of tires -- so traditional maintenance bills can also be subtracted.
I climbed into the appealing tan interior, made almost entirely of recycled materials, and flicked the little round knob between the seats -- the drive selector. With an audible backup bleat, the Leaf and I were off. My normal beat is high-performance, rare-air cars that mock mediocrity. I quickly rooted out the similarities. Groundbreaking? Check. Unusual? Check. Head turner? Check. Parents at my kids' elementary school took photos at morning drop-off. A shirtless Rollerblader in Venice Beach screeched to a halt so that he could get a better look. Exciting? Check -- in the nontraditional sense that I was obsessed with range fear for the first few days of ownership. Powerful? Not exactly. The Leaf springs from 0 to 60 in less than 10 seconds, and the battery drain needed to attain that clip is steep. I had to reset my speed-addicted soul (and right foot) to Zen mode.
After three days of stalled movement on the I-10, the I-405, the 101, La Cienega Boulevard, and other major surface roads, I finally realized I had taken my assignment seriously -- in the wrong direction. Stop and start traffic is what the Leaf eats for breakfast. That is where "hypermiling," the practice of range-preserving driving, kicks in. The slower you go, the less you brake, and the more you coast, the more range you not only preserve but regenerate. There's even an "Eco" mode option that further counteracts battery drain by increasing engine breaking and retarding acceleration.
After the first few days of nervously and obsessively monitoring the number of miles I had left, I started to relax. Even a long day of driving from Santa Monica to Hollywood to Glendale to LAX and home again -- a 60-odd-mile jaunt that took several hours -- didn't deplete the Leaf; I parked with 13 miles left. I began to feel smug about how easy it was to click the charging cable into place each evening back in my garage.
Then came the day when my growing contentment with Nissan's deeply green machine came to a Leaf-blowing halt. I had discovered an iPhone app that mapped all EV charging stations by zip code. Oh, joy! The Ralphs supermarket around the corner had two. I hustled to Ralphs, eager to expand my recharging repertoire, and pulled into one of the two EV-only parking spaces. I jumped out and grabbed the cord. Whoa. What was this aging, black plastic pancake doing where my sleek new J-plug charger should be? It took a moment for the Beta vs. VHS horror of it all to sink in. I drove to every one of the 12 listed public chargers in Santa Monica and discovered that none was Leaf-compatible.
According to Brian Carolin, president of Nissan North America, the Department of Energy is working to fund, upgrade, and install 13,000 public charging stations across the U.S. within the next 18 months. So the problem will eventually diminish, but for now, early adopters will be tethered to their garages -- literally.
I asked my Deep Throat in the EV powertrain world his opinion of the Leaf. "What problem is it trying to solve?" was his rhetorical Mensa response. Short term, he is correct -- pure electrics for now suffer from range limitations, making hybrids a less compromised alternative. But battery technology is improving quickly, and more and more capacity is being engineered into smaller and smaller packages. So within the foreseeable future, the range issue will significantly diminish -- and a new architecture for cars will take the stage. The Leaf's 192 lithium ion batteries, which are guaranteed for eight years, sit under the front and rear seats. As batteries shrink, designers will be able to have more freedom once again with car shapes.
Will the Leaf ever be considered the ultimate EV? No. But it will forever live in my automotive hall of fame for forcing me to contemplate and appreciate a new reality, just a few charging stations ahead of its time.