Mega Millions: A long shot at $355 million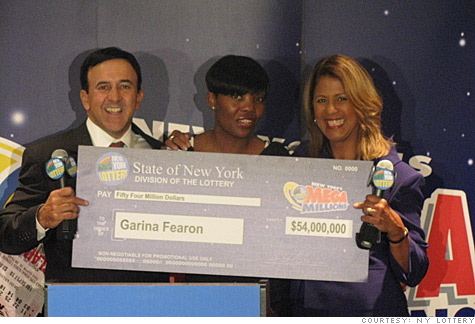 NEW YORK (CNNMoney) -- Gamblers lined up Tuesday at newsstands and gas stations in 41 states and Washington, D.C., hoping to overcome astronomical odds and win one of the largest jackpots in U.S. lottery history.
"The odds are 1 in 176 million," said Carolyn Hapeman, a spokeswoman for New York State's lottery division. "But plenty of people have done it before."
The winner of the $355 million Mega Millions jackpot can accept it two ways: as a $224 million lump sum or as 26 annual payments before taxes. Uncle Sam and state and local governments all get their piece, said Hapeman, adding that most winners go for the cash option.
The promise of sudden riches has put dollar signs in the eyes of lottery players.
"Help my family, give some to my church, enjoy my life," said Jose Guzman, a hotel worker from New Jersey and Mega Millions player, when asked what he would do with the jackpot.
The winner, or winners, will be announced Tuesday night -- assuming that there is a jackpot winner. There hasn't been one since Nov. 25, when a winning $25 million ticket -- as yet unclaimed -- was bought in Broadview Heights, Ohio, according to the Mega Millions website.
In order to win, players have to hit the first five numbers plus the so-called mega ball. Players who hit the first five numbers without the mega ball win $250,000.
There have been several quarter-million winners, but no jackpot winner, allowing the jackpot to grow over time. It will continue to grow if no one strikes all six numbers on Tuesday.
The largest U.S. jackpot ever, $390 million in Mega Millions, was won on March 6, 2007, split by two people from Georgia and New Jersey.
The second-largest jackpot -- and the largest ever in the other big multi-state lottery, Powerball -- was $365 million won by ConAgra Foods co-workers in Nebraska on Feb. 18, 2006.
Many of the winners, including the ones from New York, are required to make a public appearance after they win, but after that they can fade from public view, according to Hapeman.
Curse of the lottery
Some winners don't live happily ever after. The so-called lottery curse, popularized by the corpulent character "Hurley" on ABC's show "Lost," has ruined at least a dozen winners over the years who couldn't handle the sudden influx of fortune and fame.
The most infamous case is that of Andrew "Jack" Whittaker, a construction company owner from West Virginia who won $315 million from Powerball in 2002.
Already a millionaire before he won the lottery, Whittaker pledged part of the winnings to his church.
But it all went downhill from there, according to published reports.
Whittaker's post-lottery problems are said to have included lawsuits, divorce, drunk driving, the theft of a cash-stuffed briefcase in a strip club, and the untimely deaths of his daughter and granddaughter.
Hapeman said the curse hasn't touched any lottery winners from New York, the most recent being Garina Fearon of Brooklyn, a corrections officer who won a $54 million jackpot from Mega Millions on Sept. 17.
"When I saw I had the numbers I started running, jumping and screaming all over the parking lot," said Fearon, according to Mega Millions. "Everyone saw me running around. They must have thought I was crazy or something."
-- CNN senior correspondent Allan Chernoff contributed to this story.