Median Manhattan home price: $840,000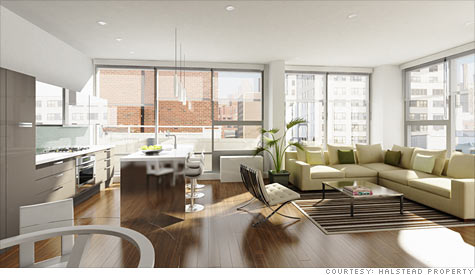 NEW YORK (CNNMoney) -- Home prices in Manhattan, the nation's most expensive big market, seem to have settled into a rut -- or rather, a high plateau.
Four of New York's biggest residential real estate brokers issued Manhattan market reports Tuesday and all indicated that home prices were, essentially, flat during the fourth quarter of 2010.
The median price of a Manhattan apartment fell 5.6% to $840,000 from $890,000 compared with the third quarter, according to market data computed by Brown Harris Stevens and Halstead. Still, they found that prices were up 5% from the previous year.
Prudential Douglas Elliman had prices down 7.5% quarter-over-quarter, to $845,000, and up 4.3% year-over-year.
Corcoran's figures were down 5% quarter-over-quarter, to $825,000, and up 3% since last year.
A drop from third quarter levels was expected, according to Jonathan Miller, president of Miller Samuel, the top real estate appraisal company in town. It's a seasonal effect that does not represent a downward trend. Instead, he said, the more appropriate comparison is to the last three months of 2009, which indicated the market is on a small upswing.
Both Miller and Diane Ramirez, Halstead's president, reported that last quarter's sales were much more evenly distributed across the price points than they were in the fourth quarter of 2009.
"It was much more of a normal distribution of sales," said Miller, who produces Prudential's market report. "In 2009, with the impact of the first-time homebuyers tax credit, there was a heavy mix smaller sales -- studios and one bedrooms."
Ramirez said high-end apartments accounted a bigger market share this past quarter. There were many very expensive homes sold including a $15 million coop her company sold on Dec. 29.
Many of the high-end sales went to Wall Street workers, whose compensation remains very lush, according to Heym.
"The bonus money is, apparently, going to be strong again this year, $20 billion or so," he said. "There were a lot of pay raises as well. It may not be like the golden years but it is a healthy level."
Those bonuses bolster the Manhattan market because so much of it is cash sales. That's especially true these days with mortgage lenders still not opening their vaults to borrowers for jumbo loans, those of more than $729,250.
Manhattan has a couple of other factors going for it that should help it remain stable over the next year or two.
There have been, for example, very few foreclosures in the city because much of the market is cooperative apartments, where residents purchase shares in a corporation that owns the building.
Coop boards have, historically been much stricter than lenders in evaluating the finances of potential buyers and they withhold sale approval for those who don't pass muster. The boards also require substantial down payments.
Also helping buoy Manhattan prices is a scarcity of new construction. Heym said there were only 505 building permits issued during the first 11 months of 2010. In a county of more than 1.7 million residents, that's a pittance.
The job market in New York is improving as well, with 51,000 private sector jobs created in the 12 months ended Nov. 30, according to Heym. New York's unemployment rate is, for a change, below the national average.
None of the experts is predicting a return to boom times, however. Large price increases are not in the cards for now. Miller, for one, is forecasting many more months of flat or slightly increasing prices.
"I don't see a dramatic shift," he said. "Where we're sitting now is where we'll be sitting a year from now."