GOP's first spending targets: Bottled water on the line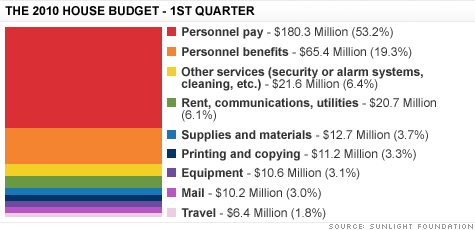 NEW YORK (CNNMoney) -- The Republicans about to take over the House have big plans to try to cut federal spending. First on the chopping block: Congressional travel, postage, staff salaries and other office expenses.
The new House Speaker, John Boehner, says he will move on Thursday to cut lawmakers' office budgets by 5%.
Of course, that won't make a dent in the nation's deficit. But for 435 lawmakers, who last year were allotted about $1.5 million each, the cut will mean trimming their budgets by $75,000 -- the equivalent of about 1.5 full-time staffers.
There are some obvious places for lawmakers to cut. In the first quarter of 2010, the House shelled out almost $190,000 for bottled water. (Quick note to investors: Lawmakers overwhelmingly prefer Deer Park brand. They spent $120,000 on it.)
Over the same period, lawmakers spent more than $600,000 on food, according to data compiled by the Sunlight Foundation. They also spent $10.2 million on mail and $6.4 million on travel.
The cuts will save $35 million, or 0.001% of the $3.5 trillion annual federal budget.
"Thirty-five million is absolutely nothing in terms of debt. It's not even a decimal point," said Craig Jennings, the director of federal fiscal policy at OMB Watch, a group that monitors federal spending.
Boehner says the incoming Republicans have to start somewhere. "And we're going to start there," Boehner said.
Boehner's plan focuses on reducing the operating budgets of House committees, leadership offices and individual member offices. Senate funding won't be affected.
Each lawmaker is their own appropriator, and can slice their budget where they choose. That might mean headaches for already burdened House staffers.
"If the 5% comes out of salaries of staff, that could be pretty ... painful for them, because a lot of the staff are very young professionals who don't get paid much to begin with," said Jennings.
A top-flight chief of staff on Capitol Hill might make more than $130,000 a year, but other staffers -- schedulers, legislative assistants and staff assistants -- make less than $50,000, according to Sunlight.
Some lawmakers might be able find other places to cut so they can keep staff salaries at their current levels.
A 5% cut is just slight enough to avoid "cutting into the bone," according to Bradford Fitch, CEO of the Congressional Management Foundation, a nonpartisan organization focused on improving the efficiency of Congress.
"Until you get to cuts of 7%-8%, you can manage your budget through innovative and creative money management," Fitch said.
For lawmakers, that might mean fewer trips to their home districts, the consolidation of district offices or scaling back communications expenses.
If that's the case, constituents might suffer.
"It could have a real impact on constituent services," Fitch said. "The mail might not get answered."
Even with the relatively modest sums on the chopping block, a reduction in spending is bound to cause some friction.
Case in point: A reduction in Capitol Hill's supply of bottled water might draw stiff opposition, the result of D.C. tap water's reputation.
"I would not begrudge them [staffers] bottled water," Fitch said. "I wouldn't drink D.C. tap water. That is not a luxury. That is almost a necessity at times."