How to cut $1 trillion from the Pentagon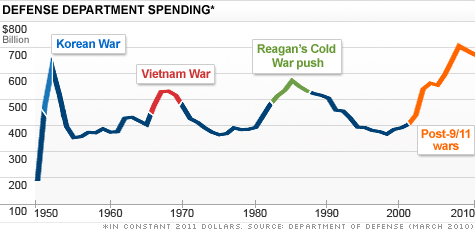 Lawrence Korb is a senior fellow at the Center for American Progress. He served as assistant secretary of defense in the Reagan administration.
Make no mistake: The nation's debt threatens our national security. That's not just my opinion. Admiral Michael Mullen, the chairman of the Joint Chiefs of Staff, is among those who have warned that the unsustainable accumulation of debt will put the nation at risk by sapping the vitality of our economy.
The Pentagon cannot be left out of the hard choices that must be made about spending. In fact, the deficit commission appointed by President Obama has suggested reducing projected levels of defense spending by almost $1 trillion over the next decade.
Those opposed to reducing defense spending note that Secretary of Defense Robert Gates has said that any cuts of that magnitude would be catastrophic. They cite three reasons: We are fighting two wars; defense did not cause the debt problem; and Obama has already reduced defense spending.
But those arguments are without merit. Here are the facts.
U.S. defense spending, in inflation adjusted terms, is higher than at any time since the end of World War II. Over the past decade, the U.S. share of global military spending has risen from one third to one half. The United States now spends six times as much as China, the country with the next biggest budget.
And the proposed reductions in defense spending will not affect spending for the wars, which are funded in supplemental budgets (to the tune of $150 billion in the current fiscal year). The proposed reductions apply to the base budget.
Defense is the third largest area of the federal budget, consuming 23% of the total and 55% of the discretionary portion. The Bush administration added $1 trillion to the base budget it inherited and spent more than $1 trillion on the direct costs of the wars in Iraq and Afghanistan.
And those direct costs don't take into account the additional trillions that are and will have to be spent providing medical care and benefits to disabled veterans and for replacing equipment.
On top of all that, the Obama administration has increased the base budget. It projects spending $6.5 trillion between 2011 and 2020. So the deficit commission's proposed $1 trillion "cut" is actually a reduction in a big spending increase.
Where to cut
The question remains: Can the baseline budget be cut by $1 trillion without jeopardizing national security?
Yes, it can. But it has to be done correctly.
First, we need to analyze whether the current force we are funding actually supports the strategy. As Gates himself has noted, we will not again do regime change and nation building under fire, as we did in Iraq and Afghanistan. In dealing with al Qaeda, the new strategy will most likely be the one currently being used in Yemen and Pakistan. In those countries, we employ comparatively small numbers of Special Forces supplemented by strikes by unmanned aircraft or drones.
Second, we need to ask why we still have 150,000 troops stationed in Europe and Asia, 65 years after the end of World War II, especially when our European allies are slashing their defense budgets to deal with their deficits.
Returning the sizes of the Army and Marine Corps to their pre-Iraq invasion levels will allow us to cut about 100,000 people at a savings of at least $15 billion a year. And reducing troops in Europe and Asia by 50,000 will yield another $10 billion a year.
Third, we can eliminate or scale back weapons that deal with threats that are from a bygone era, are way over budget or are just plain flawed.
Included on this list would be the 573 Expeditionary Fighting Vehicles the Marines want to build at a cost of $15 billion when they have not conducted an amphibious landing under fire in over 60 years. Another example: The $13 billion the Navy wants to build a new aircraft carrier, when as Gates has said, we should reduce the number of carriers from 11 to 10.
Also included would be the $238 billion F-35 Joint Strike Fighter that the Pentagon is rushing into production. Its cost has doubled and it is experiencing severe technological problems. What's more, our existing fighter planes are the best in the world and unmanned aircraft are taking over more and more missions.
There are other examples: We spend $50 billion a year maintaining 1,968 strategic nuclear weapons, when an analysis by the Air War College says that 311 are more than adequate for deterrence. And the Marines spent $110 million on each V-22 tilt rotor Osprey, when in Iraq the aircraft's full mission capability fell significantly below required levels.
Fourth, the Pentagon needs to reform health care and pay. Raising health care premiums, which have not increased since 1995, would save $6 billion a year. And another $5.5 billion a year could be saved by changing the benchmark used for giving annual raises to military personnel.
Fifth, Gates claims the Pentagon could save about $100 billion over five years. While he wants to plow these savings back into other areas, they should be used to deal with the real threat to our national security: the exploding deficit. And while $100 billion is a worthy goal, it is totally unrealistic. However, saving $25 billion is more reasonable and attainable.
There you have it: Five ways to cut projected defense spending by $1 trillion over ten years. That would make a big dent in the overall future deficits -- and still leave defense spending 6% higher in real terms than it was in the 2001-2010 period and higher than all of our enemies combined. A defense secretary who cannot provide for the common defense with a baseline budget that high does not belong in the job.