Mega Millions: $380 million, divided by two...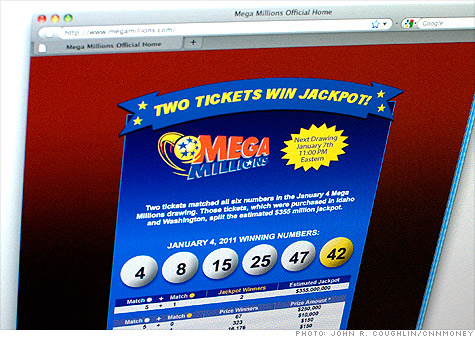 NEW YORK (CNNMoney) -- Two winning tickets, from Idaho and Washington, will share a $380 million Mega Millions jackpot, the second largest in U.S. history.
Mega Millions has yet to announce the identity of Tuesday night's drawing winners, who beat the odds of one in 176 million by selecting the winning numbers: 4, 8, 15, 25, 47 and the mega ball number 42.
Washington State's lottery says that state's winner purchased the lucky ticket at a Safeway store in Ephrata, which is in the central part of the state between Seattle and Spokane.
Idaho officials said the winning ticket in that state was sold in Post Falls, a community in the northern part of the state on the border with Washington and less than 150 miles from Ephrata.
Gamblers lined up Tuesday at newsstands and gas stations in 41 states and Washington, D.C., hoping to overcome astronomical odds and win one of the largest jackpots in U.S. lottery history.
"The odds are 1 in 176 million," said Carolyn Hapeman, a spokeswoman for New York State's lottery division. "But plenty of people have done it before."
The winners have the option of accepting their half of the jackpot as a lump sum, or divided into 26 annual payments.
This was the first jackpot winner since Nov. 25, when a winning $25 million ticket -- unclaimed as of Tuesday -- was bought in Broadview Heights, Ohio, according to the Mega Millions website.
In order to win, players have to hit the first five numbers plus the so-called mega ball.
Sixty-seven players who hit the first five numbers without the mega ball won $250,000 each.
The largest U.S. jackpot ever, $390 million in Mega Millions, was won on March 6, 2007, split by two people from Georgia and New Jersey.
The third-largest jackpot -- and the largest ever in the other big multi-state lottery, Powerball -- was $365 million won by eight co-workers at ConAgra Foods in Nebraska on Feb. 18, 2006.
Many of the winners, including the ones from New York, are required to make a public appearance after they win, but after that they can fade from public view, according to Hapeman.
Curse of the lottery
Some winners don't live happily ever after. The so-called lottery curse, popularized by the corpulent character "Hurley" on ABC's show "Lost," has ruined at least a dozen winners over the years who couldn't handle the sudden influx of fortune and fame.
"Lost" creator Damon Lindelof tweeted that 9,078 people played Hurley's numbers -- 4, 8, 15, 16, 23, 42 -- and won $150 each because they got four of the numbers correct. This detail could not be independently verified by Mega Millions.
But according to the Mega Millions website, more than 41,000 players had guessed four numbers correctly, winning the $150 prize.
The most infamous case of the lottery curse is that of Andrew "Jack" Whittaker, a construction company owner from West Virginia who won $315 million from Powerball in 2002.
Already a millionaire before he won the lottery, Whittaker pledged part of the winnings to his church.
But it all went downhill from there, according to published reports.
Whittaker's post-lottery problems are said to have included lawsuits, divorce, drunk driving, the theft of a cash-stuffed briefcase in a strip club, and the untimely deaths of his daughter and granddaughter.
Hapeman said the curse hasn't touched any lottery winners from New York, the most recent being Garina Fearon of Brooklyn, a corrections officer who won a $54 million jackpot from Mega Millions on Sept. 17.
"When I saw I had the numbers I started running, jumping and screaming all over the parking lot," said Fearon, according to Mega Millions. "Everyone saw me running around. They must have thought I was crazy or something."