American cars are back at last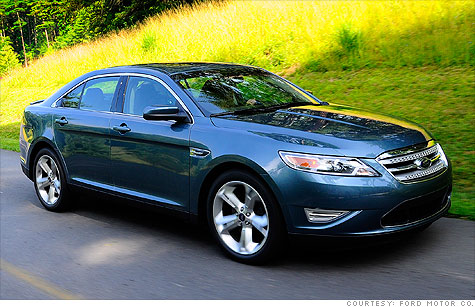 NEW YORK (CNNMoney) -- As the auto industry heads to the 2011 Detroit Auto Show next week, the home team may finally have something to cheer about.
After decades of making disappointing cars, American carmakers earned higher scores in 2010 than imported cars in separate J.D. Power surveys of initial quality and owner satisfaction.
While the domestics' lead over imports was small in both surveys, the scores were still reasons for American automakers to feel good. In terms of quality, American products, overall, are now at least neck-and-neck with foreign competitors.
Meanwhile, Consumer Reports magazine reports similar improvements in the dependability and desirability of American cars.
The improvements are finally beginning to sink in with car buyers, contributing to some respectable sales increases for Detroit.
Ford takes the lead
Ford Motor Co. (F, Fortune 500) can take credit for much of Detroit's recent success.
"All three of the domestics have improved quite a bit over the past few years in initial quality, but Ford has been more consistent and more notable," said David Sargent, vice president of automotive research at J.D. Power.
A recent Consumer Reports survey found that car owners' views of the Ford brand are virtually tied with their perceptions of perennial brand-image leader Toyota. (Toyota's recent recall troubles, which have caused its brand image to slip, also helped.)
The effort to improve quality at Ford has involved training thousands of white collar and blue collar employees in quality improvement methods, said Bennie Fowler, vice president for global quality.
Those who learn to effectively solve quality problems can earn the title of "black belt," of which Ford has about 10,000 worldwide, or "master black belt," of which there are about 1,000.
It has also involved improvements in internal communication so problems can be resolved quickly.
"If you put a warranty claim in at your dealership, I can see that claim within 24 to 48 hours," Fowler said.
Computer technology also allows Ford engineers to look for quality problems earlier, he said.
According to Consumer Reports, all of Ford's newer car and crossover SUV models have at least average or better dependability.
"With Ford, they put a lot of focus on building cars that are reliable and they put a lot of focus on fuel economy," said David Champion, head of auto testing at Consumer Reports.
GM: Smooth on style, bumpy on dependability
General Motors (GM), now more than a year out of bankruptcy, has been continuing to improve, too. But its problem has been consistency, said Champion.
Some cars, like the Chevrolet Malibu, really are dependable, while others like some of the popular new Cadillac models, still give their owners grief.
"The SRX and CTS have been particularly poor in areas of reliability," Champion said. "They look great, drive great, but they just fall apart."
GM has been doing a better job of making cars that appeal to customers emotionally, though. In J.D. Powers most recent APEAL survey, a measure of how happy owners are with their new cars, GM tied Ford's average score of 794 out of a possible 1,000. Both exceeded the overall industry's average score of 778.
Mark Reuss, president of GM North America, credits big cultural changes at GM. In the old days, he said, cost-cutting resulted in cheap-feeling cars. Now, GM expects even a low-priced Chevy to have the same solid feel you'd expect in a high-end car.
"The approach to fit and finish and sophistication and everything that goes into the chassis, those things have to be the best, no separation," Reuss said.
But GM still needs to consistently put it all together -- satisfaction, fuel economy and reliability -- to really win in the long term, said Champion. In other words, GM needs more cars like the Malibu.
"It's a nice roomy car, it's got good visibility, it drives well, it gets good fuel economy, it's reliable," he said. "That's what the market wants for long-term sustainability."
Chrysler: Still climbing back
There's one domestic automaker that still has a long way to go: Chrysler.
In J.D. Power surveys, Chrysler Group's scores remained below average in both quality and customer satisfaction, and Consumer Reports currently recommends only one of its products, the four-wheel-drive Ram truck.
For the 2011 model year, Chrysler has made major revisions to almost every car and SUV in its line-up. So far, the results have met with critical accolades.
While the Dodge Journey crossover SUV, for instance, doesn't look much different on the outside, it has improved in a number of ways, said Jake Fisher, an auto test engineer with Consumer Reports.
"That vehicle is mind-blowing in how much it's transformed," Fisher said.
Other vehicles, like the Dodge Durango, Dodge Charger and Jeep Grand Cherokee, are almost all new through-and-through. They have better ride quality and performance and nicer, better built interiors.
There is now a "culture of quality" at Chrysler, sad Doug Betts, whose job is to turn around Chrysler's product quality.
To make strides, Chrysler will need to pull ahead, not just keep up with competitors, said David Champion. And that may require completely new cars that will take years to design and engineer. In the meantime, though, things are at least looking better.