Treasury: Debt ceiling could be hit by end of March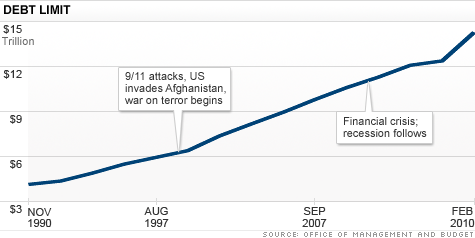 NEW YORK (CNNMoney) -- Treasury Secretary Tim Geithner on Thursday urged lawmakers to act soon to increase the debt ceiling, warning that failure to do so would be disastrous for the economy and for Americans.
In a letter to congressional leaders, Geithner said Treasury estimates that U.S. borrowing needs could push the amount of debt past the legal borrowing limit of $14.294 trillion sometime between March 31 and May 16.
As of Tuesday, the amount of U.S. debt subject to the debt ceiling was $13.961 trillion.
The debt ceiling has never been reached. But if U.S. borrowing hits the ceiling and lawmakers fail to raise it, Treasury would be prohibited from borrowing more money. Barring immediate and draconian policy changes, the country would be unable to pay its bondholders or fund programs and benefits in full. That's because there wouldn't be enough tax revenue coming in to cover all of the country's bills.
Experts say the cascade effect would be crippling not only to the U.S. economy but very likely to economies and markets worldwide.
At a minimum, a default could pummel U.S. bonds, the dollar and U.S. investors' portfolios. And that, in turn, could create a debt crisis for the United States that would likely be even harder to combat than the financial crisis of 2008.
"Even a very short-term or limited default would have catastrophic economic consequences that would last for decades," Geithner wrote.
Borrowing costs would rise across the board -- for federal, state and local governments, and for businesses and consumers, he said. Millions of jobs could be lost and stock prices, home values and retirement savings would suffer, Geithner added.
While Treasury has certain measures it can take to postpone a breach from occurring, Geithner said they would only last "several weeks."
The debt ceiling is a cap set by Congress on the amount of debt the federal government can legally borrow. The cap applies to debt owed to the public (i.e., anyone who buys U.S. bonds) plus debt owed to federal government trust funds such as those for Social Security and Medicare.
The decision to raise the debt ceiling is often incorrectly equated with an agreement to spend more money. In fact, the need to raise the debt ceiling reflects prior legislative decisions that both Democrats and Republicans made to spend more.
That's why budget experts say a refusal to raise the debt ceiling is akin to refusing to pay one's bills, not a principled refusal to add to the country's debt. Even if no more new spending bills were approved, the country would need to raise the debt ceiling because of policies already in place.
The debate over whether to raise the cap has often been a political dogfight.
But the upcoming debate is expected by some to be "all-out war." Some newly minted Tea Party lawmakers and seasoned conservatives have either flatly said they will not vote for an increase or plan to use the opportunity to force spending cuts in exchange for their votes.
"While America cannot default on its debt, we also cannot continue to borrow recklessly, dig ourselves deeper into this hole, and mortgage the future of our children and grandchildren," said House Speaker John Boehner.
Any spending concessions that can be extracted in the debt ceiling fight may help the country's fiscal situation going forward.