Today's 'it' Jobs: Accounting and IT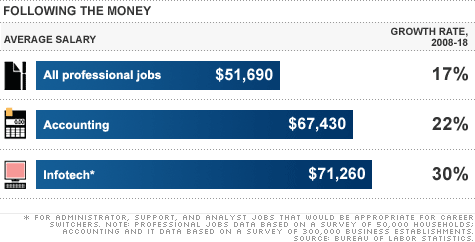 (MONEY Magazine) -- Anxious parents of teenagers often ask me what the best course of study is for their kids. As a liberal arts graduate (religious studies, for the record), I may not be the best person to consult about which majors will pay off, but I do study job growth patterns. My answer: accounting.
Accounting jobs are expected to grow 22% between 2008 and 2018, according to the Bureau of Labor Statistics. That's much higher than the average of all professional occupations (17%) and translates to almost 280,000 new jobs.
Why? In an increasingly complex financial world, more people are needed to keep track of more money. And when money isn't where it's supposed to be, accountants are employed trying to find it or uncover who took it. Accountants, however, don't just keep the books; they also advise companies on the best ways to deploy their cash.
Accountants also play a big role in my favorite economic trend, globalization. A flatter, more financially intertwined world means greater demand for expertise in international trade and mergers-and-acquisitions rules. That's one reason the large public accounting firms are hiring, and expect to be for years to come. (See "Best Jobs in America" on cnnmoney.com.)
But the beauty of accounting as a profession is its flexibility. Accountants can work for multinational corporations or small bookkeeping operations. About 8% are self-employed. Your child will have to study hard: Lucrative, globally attractive jobs such as public accounting require four-year degrees, then an advanced degree or CPA designation, which takes years.
When it's time to switch
While those demands are fine for twentysomethings, accounting isn't a field for mid- or late-career changers. You won't recoup your investment. A better bet for those in transition: information technology.
Growth prospects to 2018, at 30%, are even better than in accounting. And while IT encompasses highly trained network and systems engineers, you can enter the IT world through different doors -- from the help desk to project management and analyst jobs, all with real career tracks -- and with different types of education.
Online training or a two-year course of college study is often sufficient to make a move, says Brad Karsh, president of JobBound Outplacement in Chicago.
Just as important, this is a field where the experienced worker has a leg up on a kid. "Companies value the 'application knowledge' you bring to the table," says Jack Cullen, president of Modis, a leading IT recruiter. "If you've worked in telecom and have experience with billing systems, companies value that when they staff a project that deals with billing."
And the fact that you've worked to gain a new competency tells an employer you're "easily adaptable to a new environment," Cullen adds. These days, that's the most important skill of all.